Raila congratulates Ghanaian President Akuffo-Ado on his re-election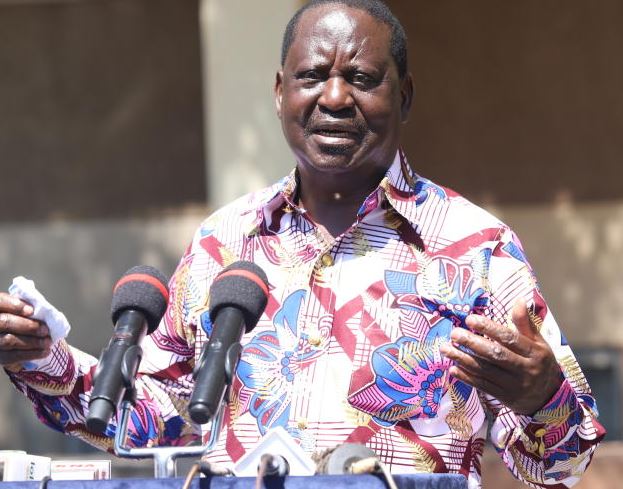 ODM leader Raila Odinga (pictured) joined President Uhuru Kenyatta and African leaders in congratulating Ghana's President Nana-Akuffo Ado for his re-election.
Akufo-Addo secured 51.9 percent of the vote, to be declared the winner of the largely peaceful polls by the Ghana election commission. President Kenyatta was quick to congratulate the Ghanaian President.
And now Raila, too, took to Twitter and told President-elect Akuffo-Ado." Congratulations for the honour and trust the people of Ghana have bestowed on you by electing you for a second term in office.''
He added: ''We celebrate your country and your people for continuing the tradition of peaceful and democratic elections.''
Raila's sister Ruth Odinga also congratulated President Akuffo for his second term victory. Both have close family ties tracing back to the olden days when Jaramogi Odinga was the first Vice President.
Some of Jaramogi's daughters are married in Ghana and have long established ties with the Ghanaian citizens and since the country went into polls they have been closely following with their kins yonder.
'' I am so happy with the Ghanaian outcome of Presidential elections. Some of my relatives were observers there and even pre-empted the victory as vote count begun and results were tabulated.''
Over the years, Ghana has been held in high esteem in African continental politics as the beacon of democracy.
President Akuffo-Addo won re-election with 51.59 percent of the vote as deadly violence gripped parts of the West African country, although generally, the elections were largely peaceful.
In the presidential race, Akufo-Addo beat opposition leader and former president Mahama's 47.36 percent, the electoral commission said.
The announcement was greeted with chanting and dancing by a crowd of supporters in the seaside capital Accra. But the opposition has called the election "flawed" and has vowed to seek legal redress.
The new President-elect, 76, told the media, "Now is the time, irrespective of political affiliations, to unite, join hands and stand shoulder to shoulder.''
Despite the coronavirus pandemic, turnout was high, with 13,434,574 people voting- 79 percent of registered voters.