Painful tales of raising special needs children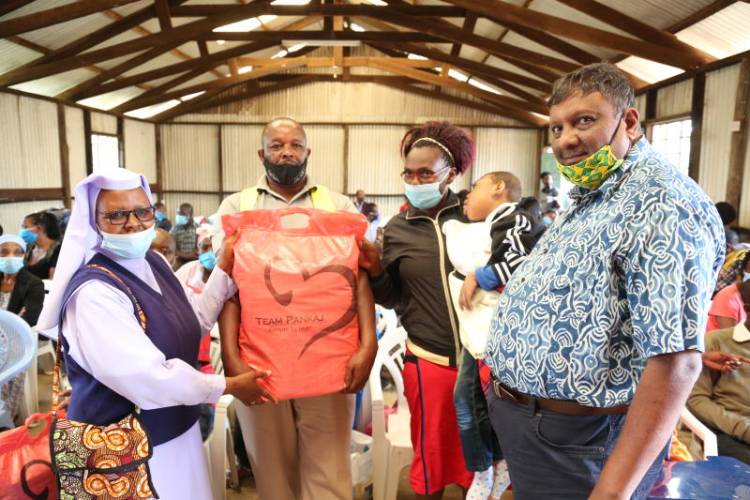 For 17 years, Agnes Muthoni has had to carry her daughter, Shirleen Kasandi, on her back whenever they leave home. There are days when she carries her for several kilometres while on errands in Nairobi because she can barely afford private means of transport. Kasandi has cerebral palsy, and can barely walk or talk. During the pandemic, the trips have been many.
"Most parents with children with disability have to carry them everywhere. They are growing and if you live in the slums, the children with special needs are more vulnerable to sexual and physical abuse. Getting a caregiver is a nightmare," Muthoni says.
On Thursday, as the International Day for People Living With Disability was marked, Kasandi was among children with conditions such as autism, cerebral palsy and hydrocephalus who got food donations from Pankaj Shah, a philanthropist.
"With the help of partners, we have been able to implement several projects especially during the Covid-19 pandemic when these families could not even afford food for their children," Pankaj said.
He was running a tour firm, but when people stopped travelling, he decided to turn his vans into food donation trucks. He focuses mostly on people with disability, and those who live in informal settlements.
Catholic sister Lillian Njuguna who oversees community projects in Githurai said families that have children with disabilities were hard hit during the pandemic.
"The parents depend on caregivers in special schools to take care of the children as they go about with their income generating activities. When schools closed for many months, most parents had to stop everything and become sole caregivers," Njuguna said.
Leah Wairimu whose six-year-old son has hydrocephalus said she cannot count the number of days they have had to go hungry during the pandemic so as to raise money to drain fluids from the child's head, a procedure that is done regularly to improve the quality of his life.
"The people who used to call me for domestic work stopped due to the fear of spreading the virus. I also felt that I would be putting my child's life at risk if I kept moving about many homes to look for a job," she said.
As the day progressed, parents narrated the hurdles they have to jump over while caring for their children with special needs.
"You keep asking yourself if you are doing the best for your child. Mine does not talk, so my parental instincts have to be up all the time. People judge you when you ask for help; they think you are complaining, but it is hard," said Ephy Awuor whose son is autistic.
They spoke of the increased risk of sexual abuse during the pandemic, citing many examples of children with disabilities in the slum who have fallen victim to abusers who prey on non-verbal children.
Tough calling
Mathew Mwangi whose son has cerebral palsy challenged men to stick to their marriages when they get a diagnosis that their children have special needs.
"When we sit in group therapy meetings, men are rarely there. It is sad to hear mothers talk of how their children's fathers ran away as soon as they got news about the child's needs," Mwangi said.
He said due to the coronavirus, children with special needs who are supposed to get physiotherapy sessions have not had access. He has had to massage his son every day, to reduce chances of regression and muscle wastage.
Dorothy Mwangi, the chair of Cerebral Palsy Society of Kenya urged more donors to come on board and help parents who cannot pay for the basic care for children living with the condition. She highlighted cases of parents who cannot afford the Sh1,000 needed for physiotherapy and speech therapy sessions.
At the speech therapy section in the institution where Ruth Makasa was training one of the children, she narrated how she sees many children making progress that have to stop when their parents can no longer afford to pay for more.