No Jamhuri Day meetings in counties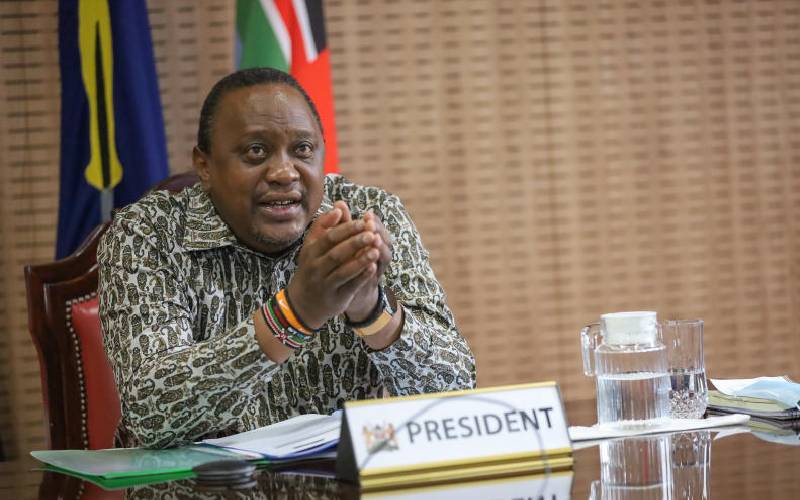 This year's Jamhuri Day slated for December 12 shall not be held in counties as has been the norm.
With the onset of the coronavirus pandemic, the national government has set out plans to reverse the escalation and win the overall war against the spread of the virus.
The number of Covid-19 cases in Kenya has risen to 89,363 after 1,253 more people tested positive from a sample size of 10,750 tested on Thursday.
Interior PS Karanja Kibicho in a statement has said Jamhuri Day will be marked at Nyayo Stadium, with President Uhuru Kenyatta (pictured) issuing a live address from 8am.
"No other national day celebrations shall be held in the country."
Kibicho added that in the current circumstances regarding the pandemic and in order to adhere to directives and protocols issued by the government, inviting people for the 2020 Jamhuri Day celebrations shall not be possible.
Kenyans are required to follow the president's address on radio, TV and social media platforms.
Last month, all political rallies were suspended for 60 days to curb the rapid spread of coronavirus in the country.
President Uhuru gave the order as one of the measures meant to beef up the fight against the pandemic.
"All political gatherings and rallies are suspended for a period of 60 days with immediate effect. Anyone wishing to hold such meetings should do so in town halls and must observe all Covid protocols, including limiting the attendees to one-third seating capacity of the hall," he stated.
In his thirteenth address to the country on the pandemic, the President did not absolve himself and other political leaders from the blame in leading the spread of the virus through gatherings.
Uhuru urged leaders to make bold decisions to lead by example as the country grapples with the spread of Covid-19.
He said, "We have failed because we have been carrying ourselves as if there is no disease. Meeting without masks and bringing people together without social distancing."