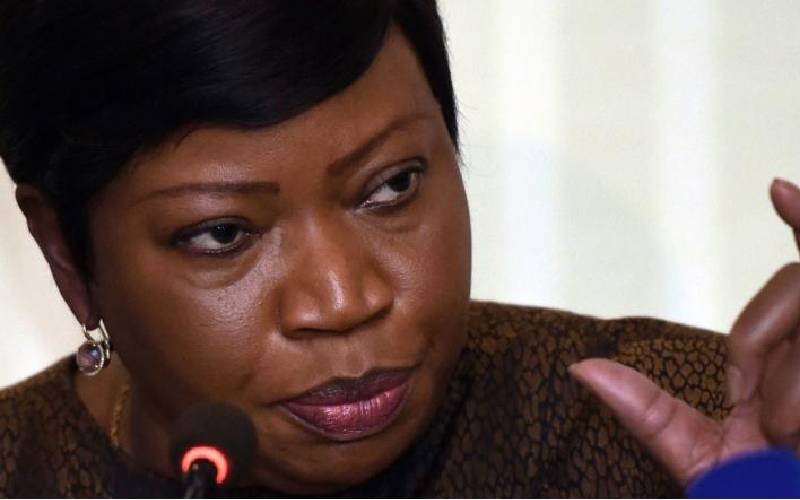 Women and girls around the world continue to be the victims of unspeakable crimes, Fatou Bensouda (pictured) has said.
The ICC Prosecutor in a statement said as the world marks Elimination of Violence against Women there is a need for a world free of violence against women and children.
"Women and girls ... continue to be victims of .. sexual and gender-based violence, harassment, human trafficking, child marriages, and being forced to serve as child soldiers."
Bensouda added that despite progress made in the fight against impunity for such crimes, they remain prevalent.
Read More
"These are crimes that have traditionally gone un-reported and un-punished for too long."
The prosecutor said the impact on women and girl victims is profound, with sometimes irreversible physical and mental repercussions, with the suffering is also extended to their families and communities.
This annual commemoration offers the international community writ large an opportunity to take stock of the progress made, but also the hurdles and challenges that still stand in the way and which must be addressed.
The Rome Statute of the International Criminal Court serves as an important legal instrument in the fight against impunity for atrocity crimes.
Building on her Office's Policy Paper on Sexual and Gender Based Crimes ("SGBC") and the Policy Paper on Children, Bensouda has sought to investigate and prosecute sexual and gender-based crimes and crimes against or affecting children.
"The charges we have brought in the Prosecution's cases and the successes we have secured in court attest to this reality."
She said in the 21st century, violence against women and children is still a stain on humanity and must be eliminated for good.
A recently released Commonwealth report revealed that violence against women and girls in Lesotho cost the country more than $113 million (about 1.9 billion Lesotho loti) a year.
Commonwealth Secretary-General Patricia Scotland said: "This report proves once again that ending violence against women and girls is not only the right thing to do but it is also the smart thing to do and beneficial to us all.
Tackling this issue will prevent immense pain and suffering for individuals and communities and will also end the damage this violence does to our economies and prosperity.
The United Nations, during the 57th session of the Commission on the Status of Women (CSW57) noted that Annual costs of intimate partner violence were calculated at $5.8 billion in the United States of America and $1.16 billion in Canada.
Closer to home, In Uganda, about nine percent of violent incidents forced women to lose time from paid work, amounting to approximately 11 days a year, equivalent to half a month's salary, affecting not only the incumbent person but her family and dependents, the report claimed.
Women and girls in Kenya are not spared as well, as government reports that 45 pc of women and girls have experienced physical violence and 14 pc have experienced sexual violence, and these are only the reported cases.
The Covid-19 lockdown further exacerbated this mess, as most of the perpetrators are close relatives. The violence costs us between one and four percent of our Gross Domestic Product.
Research shows that most of the Kenyan women who experience violence tend to be involved in casual labour, and every violent incident occurring causes them to lose paid workdays, affecting them and their dependents.