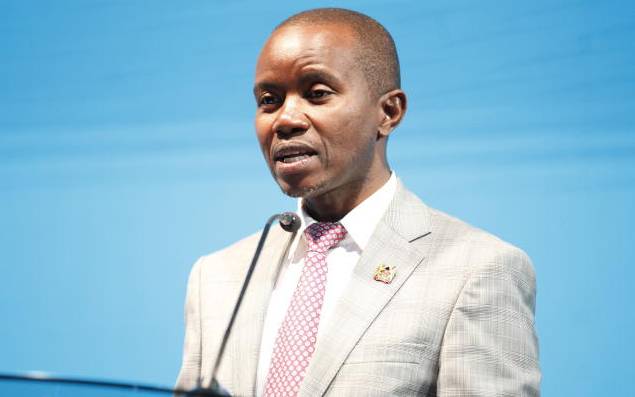 When the Huduma Namba is rolled out on December 1, it is expected that all Government services will only be accessible to holders of the identity card after December 2021.
ICT Cabinet Secretary Joe Mucheru sat for an interview with The Standard and broke down how the process will be implemented.
Where can I get my Huduma card? Any schedule or date?
We are going to give all the locations. Right now we are looking at the data to ensure it is everywhere in the country. We don't want to crowd people but we might say, go and collect where you registered. For a lot of people that are next to their homes, which is easier. It may be at the chiefs' camps or Huduma Centres.
What is the process to register for a Huduma Card?
Read More
There are those who already have national IDs, driver's licenses, etc. Those already exist in the databases and will get a Huduma Namba. When you are born, we will give you a Huduma Namba; when you are more than six years old we will give you your Huduma card, and when you turn 18 it becomes your ID card. But you still have to get a driver's license and have to go through NTSA. But when you do it, the records go into the Huduma card. Same thing for NSSF and all the others.
Must I collect my Huduma card where I registered?
The beauty of SMS is that it gives you an opportunity to respond. We are probably going to give a USSD code where you can register and actually change your current location. But these are things we are going to do as time goes on to ensure every Kenyan has access to their card wherever they are. By December 1, 2020, we are going to send an SMS to everyone once their card is ready. Wherever you are, we give you the location, for example, where you registered to go and collect your card. You have exactly one month to pick your card. Because of Covid-19, we are going to go step by step. We will first issue two million then progress depending on how the virus is affecting the country.
To be clear, does Huduma Namba now officially replace the National ID?
Yes. It replaces the ID, NHIF, NSSF and all the other cards because within your Huduma card will be all the other cards. You will still need to go to NTSA to get your driver's license but when you get it, they are not giving you a new card. The same with NHIF, NSSF and all the others. They will all be collapsed into one. Why should you have so many cards yet you are one person? Each of the institutions will continue to keep their databases but we have one 'msema kweli' – the National Integrated Identity Management System or Huduma Namba.
But the courts blocked some sections of the Huduma roll-out such as GPS and DNA from the collection items?
The court gave us very clear requirements which we have met and fulfilled. At no time were we using DNA. That is in the past. People have understood that the Government means well and Huduma card is to make sure we have better efficiency.
How safe is Kenyans' data?
The data is handled in a very clear way. There are regulations and there is also the Data Commissioner who ensures data is well controlled and managed so people will not be sharing information. We have launched it because many of the hurdles that came before this card have been tackled. Kenyans need to be sure that their data is protected; that the law and procedures are there to make sure the data can only be accessed by themselves. Only they can give permission on how it can be used.
We now have in place a Data Commissioner. The regulations for data management and Huduma have already been passed by Parliament. At the same time, we have a privacy and data protection law that is in place. Many of the concerns that citizens had have already been addressed.
At the same time, for our country, if we don't do this Europe has already implemented the general data protection rules. If Kenya doesn't conform to some of the rules, they can say, for example, KQ can't fly any Europeans or hotels can't accommodate tourists.
So there is no foreign involvement in a way they can access the data? There was talk of MasterCard being involved.
No, this is ours. The same way even for our minerals. Everything that we do in the country, we have our own data, not others'.