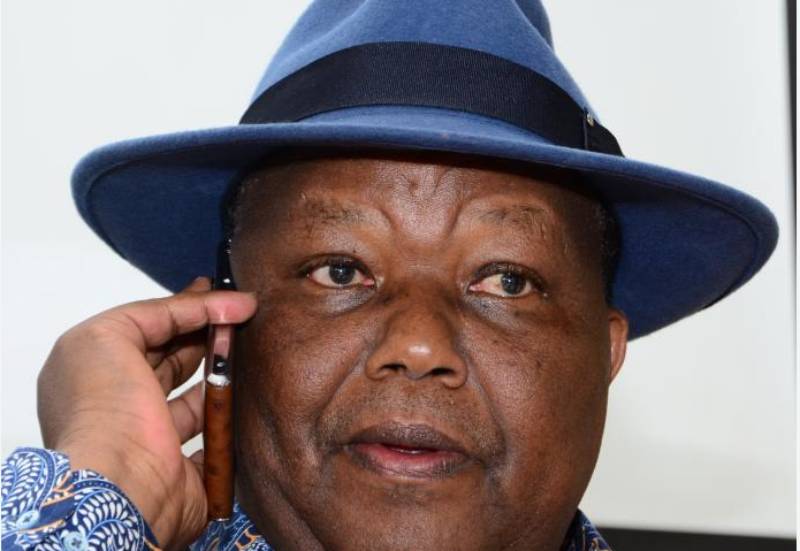 Former Chief of Defence Forces General (Rtd) Julius Karangi (pictured) had a nerve-wracking run-in with boda boda riders after a freak accident nearly one month ago.
Karangi was driving home when a motorcyclist hit the rear of his vehicle in Nyeri. And as any driver would do, he stepped out of the car to assess the damage and went back into the car.
"In a matter of minutes, dozens of boda boda riders where there. They surrounded me, hooting and issuing all manner of threats. I sat inside my car and put on a bold face," said the retired general.
It was only after he lowered his mask that the threatening mob recognised him and swiftly dispersed. "If they could attempt to lynch me, what would have happened to one of you? You could have been reduced to ashes in less than two minutes and they would probably burn the car, too."
Read More
Karangi was addressing mourners at the burial of Stephen Mucheru Ngotho, a 75-year-old man who was killed by a boda boda rider along the Kutus-Kagio road.
The angry mob of riders, he noted, were not bothered that it was one of their own who was at fault. "They did not even care to acquaint themselves with what had transpired. They wanted to lynch me despite me being the one aggrieved."
Karangi, who is the chairman of the National Social Security Fund, had one message for the motorcyclists: even as you earn a livelihood, let there be law and order.
Brush with death
His close brush with death is the nightmare of fellow motorists who have to contend with a sector that operates by its own brutal rules.
The National Crime Research Centre released a report last year that listed murder, kidnapping and abduction, theft, possession and usage of drugs, sexual assault, and robbery with violence as being among the crimes committed by boda boda operators.
The report titled Boda boda Motorcycle Transport and Security Challenges in Kenya reveals that robberies top the list of complaints followed by accidents and lynchings. Laxity by the police and other law enforcement agencies was found to contribute to rising criminality in the sector.
Statistics from the National Transport and Safety Authority show that over 1.4 million motorcycles were registered in Kenya as at February 2018.
"Kenya does not have a database of all motorcycles that operate as boda bodas. The subsector is therefore not effectively policed, regulated and monitored. This is partly the reason for the wanton recklessness, impunity, violence and siege mentality of boda boda operators," reads the report.
It also notes that the industry is dominated by the youth who are not trained, are less educated and of lower socio-economic standing. Poor policing and lack of regulations and oversight results in crime, impunity, deaths and injuries with grave implications for public safety.
The report concluded that while the motorcycles have transformed the transport industry due to their convenience, they are a ticking time bomb because they were introduced without a proper legal and policy framework.
"Like the matatu industry that at one time was infiltrated by gangs like Mungiki, there is fear that boda bodas could be headed down the same route if adequate policy interventions are not implemented in good time."
But it will be a tall order putting the genie of violence back in the bottle if some of the horrific incidents tied to boda boda operators are anything to go by.
Patient abducted
Last week, over 300 boda boda riders stormed Kimbimbi sub-County Hospital in Kirinyaga and abducted a suspected motorcycle thief who was receiving treatment for injuries he sustained at the hands of a mob the previous night.
The riders whisked away the patient and lynched him before burning his body to ashes along the Kagio-Embu highway.
Kirinyaga police commander Leah Kitheri said they responded to a report of an unidentified body lying beside the busy highway. Kirinyaga East DCIO Millicent Ochuka said the mob overpowered the hospital's security guards and medics.
The incident just showed how the riders have become a law unto themselves.
Still in Kirinyaga, a driver transporting miraa was rescued by the police from boda boda riders out for revenge after their colleague was killed by a speeding pick-up truck in Nyagati area along the Embu-Mwea highway.
Central Region police commander Patrick Lumumba attributed the rising cases of impunity to drug abuse and poor policing of the sector. He said criminals have infiltrated the sector and are responsible for both petty and major crimes.
"There are rogue boda boda riders out to kill suspected criminals, some who could be innocent. Brewing of illegal liquor is a major contributor to the crimes and we will deal with the criminals," Lumumba said.
A video that went viral recently showed riders attempting to lynch a lorry driver after his vehicle veered off the road, and hit and killed their colleague along the Eldoret-Iten road.
Some riders have also turned into vigilantes who 'dispense' justice in the estates and villages.
In June last year, boda boda riders lynched a 62-year-old woman in Kasewe, Homa Bay County, after accusing her of bewitching her step-son. The woman, they said, had "refused to identify the witchdoctor whose services she used to cast the spell."
Still last year, riders plucked a pastor from the podium where he was presiding over a funeral in Homa Bay and beat him senseless over allegations that he had committed robbery with violence.
They later locked him up in his house and set it ablaze. And because the police rarely pursue and arrest members of lynch mobs, the riders get away with murder.