New top soldier to oversee handover of power and KDF exit from Somalia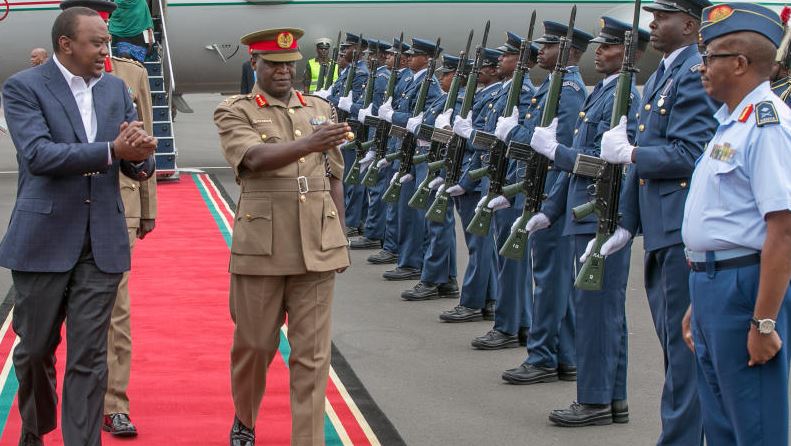 Newly appointed Chief of Defence Forces Robert Kibochi will oversee two milestones for Kenya: the planned withdrawal of troops from Somalia next year, and the transition from Uhuru Kenyatta's presidency in 2022.
If he stays in office, Gen Kibochi will serve two Commanders-in-Chief, as President Kenyatta is scheduled to hand over power to his successor after serving two terms.
The Chief of Defence Forces is a member of the statutory Assumption of the Office of President Committee, which plans the inauguration of the president-elect.
The functions of the committee include facilitating the handover by the outgoing president to the president-elect, and putting in place security for the incoming leader.
He is also part of the security chiefs who furnish the president-elect with security briefs. The law provides that the committee shall ensure the president-elect receives security briefings from respective national security organs.
In 2013 after Uhuru and William Ruto won the presidency, the then Chief of Defence Forces Julius Karangi, then National Security Intelligence Services Director General Michael Gichangi and then police chief David Kimaiyo went to brief the president-elect and his deputy at Uhuru's home in Nairobi.
Kibochi, who turns 61 in August, will officially take over from Samson Mwathethe on May 11 at the Defence Headquarters, Nairobi.
The term of the Chief of Defence Forces is four years. However, a general is supposed to retire at age 62, a lieutenant general at 61, a major general at 59 and a brigadier at 57.
But the law provides a disclaimer for the general: "The maximum retirement age shall be amended from time to time through legislation on recommendation by the Defence Council."
Decade later
Uhuru had extended Gen Mwathethe's term by a year, but sources say he declined a second extension. Mwathethe's predecessor, Gen Karangi, got two extensions.
Karangi had succeeded Jeremiah Kianga in 2011. Gen Kianga was in charge during the 2007-08 post-election violence that was sparked by the disputed re-election of President Mwai Kibaki.
Kianga had taken over from Joseph Kibwana who was at the helm in 2003 when President Daniel arap Moi handed over power to Mr Kibaki, who would a decade later hand over power to Uhuru.
In the Uhuru succession, Dr Ruto and ODM leader Raila Odinga appear to be the frontrunners. The March 9, 2018 deal between Uhuru and Raila has scuttled what had appeared to be a well laid-out Jubilee Party plan that would have seen Ruto take over leadership.
The deputy president is increasingly appearing to be an outsider in a government he helped form to the extent that he has alleged a system scheme to block his presidential bid.
Mr Odinga, on the other hand, appears to have become a beneficiary in the fall out in Jubilee and rally behind the Building Bridges Initiative (BBI).
A Jubilee Party faction allied to Uhuru that includes vice chairman David Murathe has openly declared they will not allow Ruto to become the fifth president of Kenya.
The Kieleweke faction in the ruling party publicly touts an alliance involving Uhuru, Raila's ODM and Kanu.
However, the military is never involved in partisan politics in public.
Meanwhile, the new top soldier will play a key role in the exit of Kenya Defence Forces (KDF) troops from Somalia.
According to the Somalia transition plan, KDF is supposed to withdraw troops from the war-torn Horn of Africa nation by 2021.
Kenyan troops moved into Somalia in October 2011 to pursue Al Shabaab militants in the wake of kidnappings along the country's borders. Karangi was the Chief of Defence Forces at the start of the military campaign, code named Operation Linda Nchi.
It was during Karangi's term that in September 2012 Kenya Special Forces seized Somalia's port city of Kismayo – the Al Shabaab stronghold – following an amphibious assault, code named Operation Sledge Hammer.
His successor, Mwathethe, continued leading Kenyan troops in their mission to pacify Somalia as part of the African Mission in Somalia (Amisom).
Elevation and appointment
Kibochi has been serving as Vice Chief of the Kenya Defence Forces following his elevation and appointment on July 13, 2018.
He was enlisted into KDF on May 18, 1979 and underwent Officer Cadets training until March 30, 1980. He was commissioned in the rank of second lieutenant and posted to Signals Battalion.
Kibochi has held various command and staff appointments, including his immediate former appointment as Commander of the Kenya Army, Assistant Chief of Defence Forces in charge of Operations, Plans, Doctrine and Training at Defence headquarters, Chief of Strategic Plans and Policy, Director of International Peace Support Training Centre, Col Operations Requirements and Commander Corps of Signals.
Other appointments include Chief of Staff at the Eastern Africa Standby Force, SO1 Records at Headquarter Kenya Army (HQ KA), SO1 Comms HQ KA, SO1 Mobilisation DHQ, SO1 Comms CIS DHQ and SOII Operations and training.
Born in Nakuru on August 15, 1959, Kibochi has served in the military for 41 years in various positions in the Kenya Army until his appointment as Chief of Defence Forces on Thursday.
With his experience in the service, one insider said, "This is something he has been preparing for long. We believe he will deliver".
Kibochi has a master's degree in international studies, a master's in computer-based information systems, bachelor's of technology in communication and electronics engineering, and is currently pursuing a PhD in peace and conflict management.
His other professional trainings include National Security Studies at the National Defence College, Army Command and Staff course, Overseas Telecoms Engineering course, Signal Officers Degree Telecommunications Engineering course, Sub Unit Commanders course, Platoon Commanders course, and Regimental Signal Officers course.
He served with the United Nations as Commander of the Kenyan Contingent in the United Nations Mission in Sierra Leone from 2000 to 2001.
Head high
Mwathethe, on the hand, leaves the military with his head held high, having left a stable institution. He rebuilt the counterinsurgency and counterterrorism strategy of Kenya.
He introduced the concept of soft power in which the military moves out to speak to radicalised youth and radical leaders about the dangers of violent extremism.
Mwathethe held various command positions, including the VCDF, Navy Commander, Deputy Navy Commander and Navy Logistics Commander.
In 2017, Uhuru appointed him to chair the blue economy implementation committee.