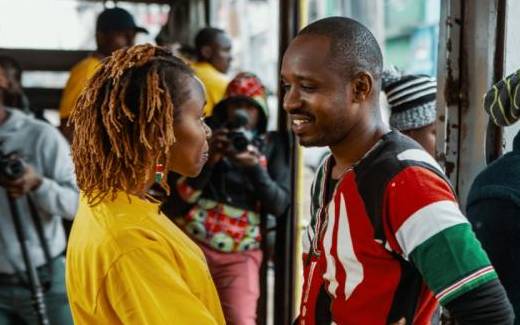 On the cover of his 2017 memoir, Unbounded, Boniface Mwangi, the consummate photographer activist-turned-politician, adorns a shirt fashioned out of the national flag, a distant, contemplative look in his eye.
Those two vistas — defiance and national pride — are at the heart of one of the most important films to emerge from this country, and which opens in theatres nationwide this Friday, with a premiere at Prestige Theatre in Nairobi.
Softie, which is written and directed by Sam Soko and produced by Toni Kamau, has already garnered accolades: a Special Jury Award for Editing at Sundance, America's premier film platform, and Best Documentary at this year's Durban International Film Festival.
The film chronicles Mwangi's eventful life, following an unexpected decision in 2017 to run for elective office, which he delivers to his wife, Njeri, laughingly. But as he will soon realise, politics is not a laughing matter, especially for those imbued with his idealism.
His political journey is tempestuous, but Mwangi is well prepared, having graduated from the school of street activism, risking life and limb as he speaks truth to power by, in Mwangi's colourful parlance, "speaking courage fluently."
We see him beaten to a pulp by policemen disrupting his protests, as well as his innovative strategies to beat the system and convey his political messages, including use of street graffiti to raise awareness of pressing social issues.
For his campaigns, he adopts a door-to-door model, wooing potential voters in Starehe, his boyhood haunt. But Mwangi soon finds out that only money talks in Kenyan politics. The other is patronage, which, still, comes with even more money. "Why am I doing this to myself?" a weary Mwangi says, on the verge of despair, when potential voters openly solicit for bribes from him.
When he cannot guarantee the safety of his own family, Mwangi is forced to reassess his commitment to his family and country, and the price that he is willing to pay to redeem both.
This is more than just a political story; it is an intimate portrait of courage, an enchanting coming-of-age tale of a lanky boy who emerged from the streets selling second-hand books, momentarily found his calling in religion, before news photography catapulted him from grinding penury to international stardom.
Still, Mwangi remains restless.
Bearing witness to the 2007/2008 post-polls pogrom, he was outraged when his editors declined to use most of the gory pictures and, rather than sulk at the obstacle, he resolved to create a forum where Kenyans could have unfettered access to his post-election photography.
Political power
The result, a travelling photo exhibition named Picha Mtaani, catalysed Mwangi's next phase of life: a creative hub that he named, without any sense of irony, Pawa 254.
The acronym intimates a patriotic pride and a desire to access political power. The former is fortified by the close proximity of the hub to the Nairobi State House, while 254 drew from the country's international phone code.
It is this radiant and radical life that Soko chronicles in Softie — the title is picked from Mwangi's street nickname, where he was perceived as a weakling due to his slight frame. Soko focused on Mwangi's last seven years, filming for five of them.
"I was born poor, I grew up poor," Mwangi says in the film, recalling his childhood as one of the seven children born to a single mother.
If South Africa has Julius Malema, the former African National Congress youth stalwart now agitating for change with his breakaway Economic Empowerment Party, and Uganda has Bobi Wine, who is using reggae music to galvanise the youth vote to wrest power from Yoweri Museveni, Kenya has Boniface Mwangi, who is using his artistic license to subvert political authority and instil a new political culture.
Softie is an artistic marvel that manages to tell a compelling story of a complex character. It is difficult to watch the film without the compunction to review one's own commitment to Kenya.
Implicitly, the film raises a philosophical question about one's purpose in life, although Mwangi's dalliance with politics undermines his long-held artistic vision to transform society.
Yet, one could argue, Mwangi's immersion in politics is consistent with the idea of bearing witness. After all, the so-called middle-class in Kenya is very good at verbalising what's gone wrong with this country, but almost none will stake a claim in elective politics. Mwangi is the change he aspires for his country.
"I'm going to topple the government," Mwangi jokes when his son asks him where he is going, as he leaves the house one morning. In another moment in the film, his older son offers a prayer for his father to secure 'a better job' and get off the streets, where danger lurks.
Mwangi's wife, Njeri, who co-stars in Softie, emerges as a moral compass, bearing the crushing weight of raising her children as their father seeks to build a better Kenya. "I want him home for his children," Njeri says in the film, "I'm fighting for us."
In a certain sense, the film encapsulates Mwangi's fight from the fringe, the outsider who has shaped every political discourse over the past decade. His political foray in the last General Election was path-breaking, as it was funded through crowdsourcing and heavily screened all contestants running on Mwangi's Ukweli Party.
Yet, Softie is only a fragment of Mwangi's enchanting life. Born in Taveta, on the Kenya-Tanzania border, and partly raised by his grandmother in Nyeri, followed by a stint in a borstal institution, as recalled in his memoir, it would be interesting to map out that journey to the present.
While Mwangi makes a symbolic homecoming in the film, it would be equally interesting to envision his future — he is only 38 — and his place in this country, to which he has given so much.