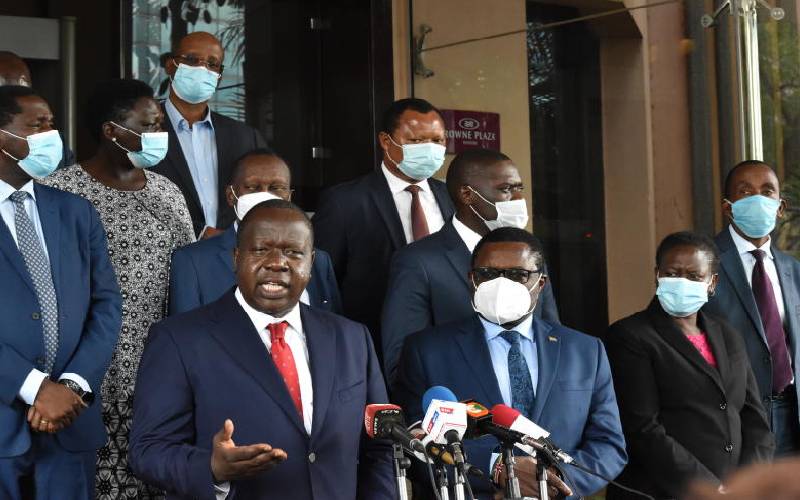 Senators yesterday put Cabinet Secretaries (CS) on the spot for ignoring summonses by the Senate thereby derailing their oversight role.
In a five-hour closed-door grilling session by the Liaison Committee chaired by Speaker Ken Lusaka at a Nairobi hotel, the CSs led by the Cabinet Committee on Implementation chair Fred Matiang'i (Interior), however, defended themselves, saying the responses for questions from senators sometimes delay as they endeavour to give accurate information.
Technical team
In the end, they resolved to form a joint technical team comprising the Senate Clerk Jeremiah Nyegenye, secretary, President's Delivery Unit and secretary, Office of the President to ensure synergy and fast-tracking business between the two levels of government.
Read More
The meeting comes in the backdrop of lamentations by committee leaders in the Senate.
The senators have singled out Interior, Lands, National Treasury and Transport ministries as the worst in responding to questions.
"We have met with the CSs to explore how we can work closely and fast-track pending business before the Senate. Going forward, we have agreed on how to coordinate," said Lusaka after the meeting.
Yesterday, Matiang'i absolved himself and colleagues from blame, insisting that presently there was no business pending before Parliament that they have not addressed.
"I want to use this opportunity to clarify that I have no pending questions. I might not give them responses as quickly as required because they must be well researched," he said when asked why his ministry was the biggest culprit.
Matiang'i disclosed that the meeting resolved to form a joint implementation matrix to fast track pending business before the Senate.
"To do so, we immediately formed the joint technical team comprising the clerk and the two secretaries for greater accountability in legislation, oversight and policy. I will not hesitate to do my best," he said.
He went on: "This is the first of the many meetings we will have and I undertake to ensure it is seamless. We will have many more meetings."
Inside sources, however, told The Standard that the CSs were hard-pressed to explain why they consistently ignore the Senate, while they honour invites by the National Assembly.
The CSs, on their part, complained over the numerous summonses, saying they have no problem honouring the invites, but should be given adequate notice.
"There are pending security queries on Lands and Transport. The last time the National Treasury CS Ukur Yatani honoured a Senate invite was during the budget ceilings issue, same with the AG, whom we have invited over the judges yet to be appointed by President Uhuru Kenyatta," said a senator.
Matiang'i stressed that appearing before Parliament was a duty, not a favour. However, this contradicts his earlier advisory sought from the Attorney General on whether he should honour the Senate invites.