Uhuru and UK premier to lead global education funds drive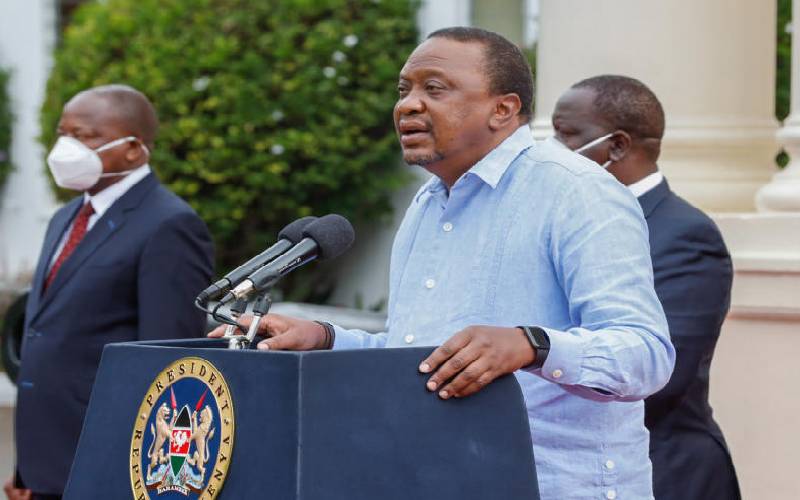 President Uhuru Kenyatta and UK Prime Minister Boris Johnson will lead a major education event to raise Sh500 billion to support vulnerable children.
The two leaders will host the Global Partnership for Education (GPE) in the UK mid next year.
The meeting will bring together key global players and decision-makers with the aim of getting all children into schools.
Governments, businesses and individuals have been urged to participate in the drive.
President Kenyatta (pictured) urged world leaders to use the opportunity of GPE's financing conference to make ambitious pledges to invest in quality education.
"GPE has been a key partner in helping us invest in innovative solutions to get all our children, especially girls, learning," said Uhuru.
The drive comes as the coronavirus worsened the global education crisis, with 1.3 billion children being locked out at the peak of school closures.
And as schools being to safely reopen, experts have warned that many children would never return, particularly as countries experience an economic contraction in the wake of the pandemic.
Wasted potential
Premier Johnson said since Covid-19 struck, the number of children out of school around the world has soared past 1.3 billion.
"It is a toll of wasted potential and missed opportunity that is a tragedy not just for those children, but for each and every one of us," said Johnson, adding that education unlocks doors to opportunity and prosperity.
"It offers girls a ticket out of poverty and exploitation to chart their own futures. That's why I am delighted that the UK will co-host the replenishment of the Global Partnership for Education in 2021," said Johnson.
The UK remains the top donor to GPE and next year's summit will raise funds for its work in developing countries.
Kenya has made education a central part of its strategy to become a newly industrialised nation by 2030. It has been a GPE partner since 2005, and has since achieved universal primary education, breaking gender barriers to get as many girls as boys enrolling in school.
Julia Gillard, former Prime Minister of Australia and GPE board chair, said an investment in GPE is an investment in the world's most powerful asset – its children and youth.