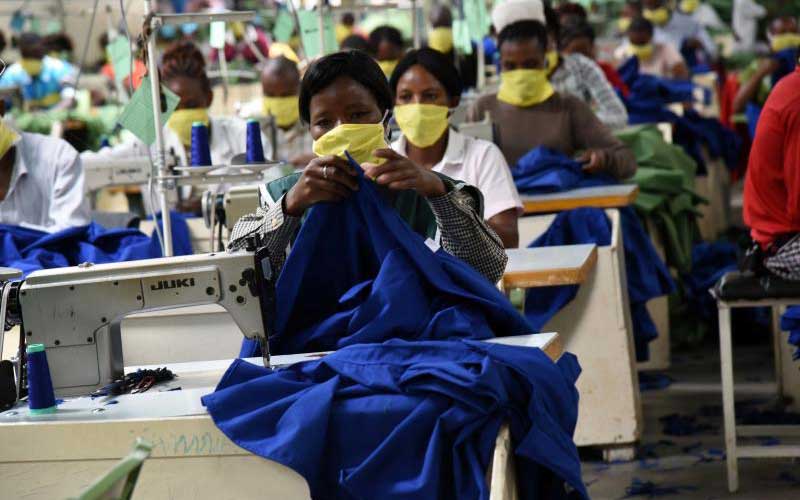 Police headquarters has denied there is a shortage of new uniforms and instead directed officers who have not collected theirs to do so immediately.
Spokesman Charles Owino said there are 6,000 and 2,000 male and female officers' uniforms respectively lying uncollected at the central stores.
"Officers who may have not collected their uniforms have been directed to do so immediately," said Owino.
He was reacting to reports of a shortage of the kits amid directives to wear them or not report for work. Police in Nairobi claim they have been forced to wear the new uniforms whereas there is a shortage of the same.
Read More
However, Owino said all officers in the city have been fully kitted with the deep blue working dress.
Nairobi regional police boss Rashid Yakub issued the directive in an internal memo which also warned against mixing of the uniforms.
"It has been observed that some officers of other ranks are wearing the old uniforms while reporting on duty with some members of inspectorate still wearing the old khaki uniforms."
"This is despite the fact that the new medium blue uniforms for all general duty police officers were launched in late 2018 and have been on issue since then," said part of the memo dated September 11.
It added that those reporting on duty must be in the new medium blue uniform except for the formed up units who have their own order of dress.
"In addition, all officers are cautioned against mixing of uniforms or wearing non uniform items alongside the uniform. Failure to comply with these instructions will attract serious disciplinary action," warned the memo.
But those targeted protested saying there is no enough materials at their stores.
Some officers claimed they are being told to go a private tailor and pay for the sewing.
"We have been given contacts of some civilian tailors who have been approved to stitch the new uniforms at our cost. It is the government's responsibility," one of the officers said.
It is said that the civilian tailors are charging between Sh3,000 and Sh5,000 a pair.
But Owino denied the reports saying they are false and asked those affected to go to his office and report.
Both police and prisons services have a challenge in supplying the uniforms and boots to officers after they were ordered to obtain them locally.
Interior Cabinet Secretary Dr. Fred Matiang'i said the government is not backing down from local sourcing of materials and production of goods.
He said the State is determined and serious about improving the economy by no longer allowing the exportation of jobs to other countries.
"A while ago, our overall coats used to be imported from China but never again. These coats are locally made and they are warm enough. So, all coats, gear and even boots for the National Police Service will be made locally so that we continue promoting businesses and creating employment in the country," the CS said.
Interior Ministry Principal Secretary Dr. Eng. Karanja Kibicho said the National Youth Service (NYS) were originally given exclusive rights to source the local fabric and knit the police uniforms in Ruaraka.
He added that they will be helped out by the private sector in order to speed up the process.
"As a Government, we are fully behind the Buy Kenya, Build Kenya slogan. We as a Ministry want to consume what is produced in Kenya" he said.
The Persian blue uniforms are part of the police reforms that were instituted by President Uhuru Kenyatta in September 2018.