Police protest directive to wear new uniforms amid shortage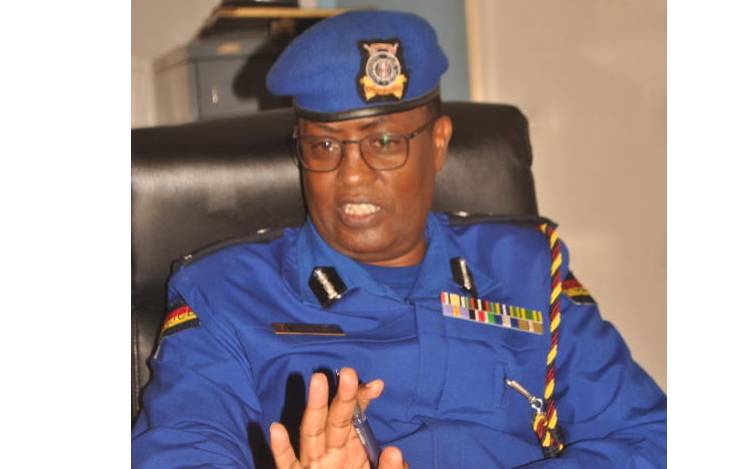 A section of police officers in Nairobi are protesting a directive to ensure they wear the new Persian blue uniforms while on duty.
Those who fail to wear the uniforms have been threatened with serious disciplinary action. This is despite concerns there is a shortage of fabric in the service to make the new uniforms.
Nairobi regional police boss Rashid Yakub issued the directive in an internal memo which also warned against the mixing of the uniforms.
"It has been observed that some officers of other ranks are wearing the old uniforms while reporting on duty with some members of inspectorate still wearing the old khaki uniforms."
"This is despite the fact that the new medium blue uniforms for all general duty police officers were launched in late 2018 and have been on the issue since then," said part of the memo dated September 11.
It added Rashid had ordered that those reporting on duty must be in the new medium blue uniform except for the formed up units who have their own order of dress.
"In addition, all officers are causing the mixing of uniforms or wearing non-uniform items alongside the uniform. Failure to comply with these instructions will attract serious disciplinary action," warned the memo.
But those targeted protested saying there is no enough materials at their stores to enable them to obtain the government stores.
"The police boss is being unfair to us because some of our colleagues are now using their money to get the uniforms which are wrong. He is threatening to discipline those without the new set of uniforms as if it is our wish," said one officer who asked not to be named.
Another officer claimed Yakub has been patrolling parts of the city and reprimanding those without the uniforms.
Yakub said the directive was well thought out and aimed at ensuring discipline in the city.
"We are a disciplined service and I know what I am saying. We must obey the rules," he said.
Both police and prisons services have a challenge in supplying the uniforms and boots to officers after they were ordered to obtain them locally.
Scarce materials
Interior Cabinet Secretary (CS), Dr Fred Matiang'i said the government is not backing down from local sourcing of materials and production of goods.
He said the state is determined and serious about improving the economy by no longer allowing the exportation of jobs to other countries.
"A while ago, our overall coats used to be imported from China but never again. These coats are locally made and they are warm enough. So, all coats, gear and even boots for the National Police Service will be made locally so that we continue promoting businesses and creating employment in the country," the CS said.
To continue protecting local manufactures, Matiang'i reiterated that the Government will not back down in the fight against contraband goods.
Matiang'i affirmed the Government's commitment to continue sourcing materials locally and subsequently manufacturing the police officers' uniforms in Kenya.
"Protecting Kenyan jobs and Kenyan businesses is now a national security issue. We can longer have our businesses go south."
Principal Secretary (PS) Interior Ministry, Dr Eng Karanja Kibicho, said that the National Youth Service (NYS), who were originally given exclusive rights to source the local fabric and knit the police uniforms in Ruaraka, will be helped out by the private sector in order to speed up the process.
"As a Government, we are fully behind the Buy Kenya, Build Kenya slogan. We as a Ministry want to consume what is produced in Kenya" he added.
The Persian blue uniforms are part of the policy reforms that were instituted by President Uhuru Kenyatta in September 2018.