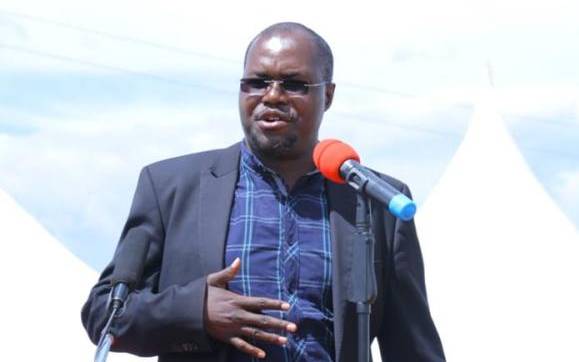 A junior politician just crossed the red line by dragging in a senior politician's mother during a moment of madness in our draining politics.
Or did he?
Emurua Dikirr MP Johana Ng'eno (pictured above) and his Kapseret counterpart Oscar Sudi found themselves in the eye of a storm last week over remarks deemed to be disrespectful to President Uhuru Kenyatta and his mother Mama Ngina Kenyatta.
The president would days later react to the slur, telling leaders to leave his mother out of their exchanges, and saying the MPs were completely out of order.
Read More
"These silly people have been going around insulting my mother. Tell them to leave my mother alone. Let them go insult their mothers," the President said at Ruaka while on a tour to inspect a road project in the area.
So did this spat become abominable because a mother was dragged into a 2022 political feud, which is increasingly becoming a run-up to a verbal war of words without any rules?
Maybe, just maybe. Many street altercations have degenerated into fist-fights when mothers' names are invoked, as men trying to defend their mothers are known to be as vicious as the proverbial scorned woman.
But has it always been so?
"It is because women are the family pillars and have been given the gift of bringing life such that any attacks are seen as bound to weaken the most delicate parts of a community," said Mary Kanana, the Maendeleo ya Wanawake chair in Meru.
Physiologists believe the relationship between an adult son and his mother is important in building his identity, and how he interacts with others. They point out that the shadow of a controlling mother may have serious effects in attaining independence and happiness because the son will always be conditioned to support and protect the mother.
Consider that Aden Duale, when he was National Majority Leader and at the height of his power once told a former governor: "Hii pesa sio ya mama yako (this money does not belong to your mother)" provoking countrywide rage and condemnation.
Shortly after his election in 2017, Tharaka Nithi Governor Muthomi Njuki prompted women demonstrators to throw old innerwear in his office after telling contractors that they "would be paid by their mothers." Later, he would refer to a political rival from the backyard as having the voice of a woman.
Babu Owino, the MP for Embakasi East, has in the past uttered some unsavoury things in an attack on the mothers of rivals.
Luo Council of Elders chairman Opiyo Otondi yesterday said that while the community did not have sanctions for those engaging in such behaviours as insulting elders, it would disgust them.
"Entering the bad books of the elders had its own implications," said Otondi, without elaborating.
Presiding Bishop Samuel Njiriri of Stewards Revival Pentecostal Church in Kariobangi, however, says Kenyans should get a way of distinguishing attacks on women and popularising rogue politicians with poisonous tongues.
"Our national psyche should be able to decipher when to avoid going into a self-destructive mode that only benefits those who spew hate," said Bishop Njiriri.
Meru Council of Elders secretary Josephat Murangiri said under the Meru culture, insulting another person's mother was inviting death through the resultant fight.
"This was taken very seriously by the Njuri Ncheke and punishment included apologies and offering of a ram ('nturume') as an atonement to cleanse the sin," said Murangiri.
The Venerable John Gichimu, an archdeacon of the Africa Independent Pentecostal Church of Africa, said mothers deserve unreserved respect and it was worrying when politicians negatively referred to them.
"A mother brings forth life, provides, protects, loves and feeds a child from infancy to adulthood, hence the saying none like a mother. In the Gospel, the role of the mother of Jesus stands out throughout His mission of bringing an abundance of life to mankind. Throw any mud to me but leave my mother out please," said Ven Gichimu.
Kigochi wa Waimiri, a Kikuyu elder, said insults were usually between two men, but rare between the sexes.
Waimiri noted that in Gikuyu culture invoking the name of a rival's mother was the ultimate insult - the final precursor to a fight.