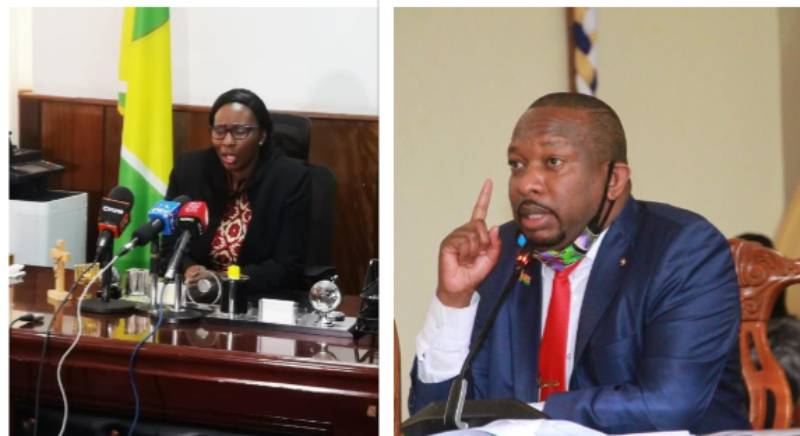 Nairobi Governor Mike Sonko has distanced himself from a statement doing rounds on social media which claimed his admiration for Beatrice Elachi's work as Nairobi County Speaker.
Elachi tendered her resignation on Tuesday morning. She addressed her resignation letter to President Uhuru Kenyatta and not the County Clerk and Governor as required by law. She cited "lots of conflicts" and "life-threatening incidents" in recent days for her decision to leave office.
In the statement, the author(s) claimed Sonko had received the news of Elachi resignation with shock and dismay. It goes on to praise the outgoing Speaker and says the governor had a healthy working relationship with her.
"This move wouldn't have come at a worse time. Our county is in turmoil, our people are suffering, and our city is in disarray. Another crisis is what we all don't want at this time," the statement reads in part.
It further adds: "Let me state for the record that I worked tirelessly to make sure that Hon Elachi was able to come back to the county and continue discharging her duties as Speaker."
But moments after, Sonko's spokesman Ben Mulwa dismissed the statement as fake.
"Governor Mike Sonko does not wish to comment on the resignation of Speaker Beatrice Elachi. If need be, he will issue a comprehensive statement later. He also wishes to distance himself from a statement circulating in social media platforms," Mulwa posted on his twitter handle.
Elachi had accused Sonko of being behind her woes and asked him to focus on God and stop threatening people.
"Governor Sonko, you cannot go on threatening people's lives and their families. You also have a family. You cannot have everything, just nurture what God has given you," she said.
She added that there have been tremendous changes and challenges with the coming in of the Nairobi Metropolitan Services. But she hoped Nairobi will transform to a better capital city.
Elachi's exit comes after months of wrangles at the City Assembly with a section of MCAs in support of her leadership while others were opposed to her leadership.
An impeachment motion was logged against her where she was accused of abuse of office, illegal appointment of a new assembly clerk, corruption, poor leadership, victimisation of MCAs and assembly staff, impunity, disregard of the law and county orders, and militarisation of the assembly.
Her deputy, Ruai MCA John Kamangu, will now take over as the Nairobi Speaker in an acting capacity until a new speaker is elected.