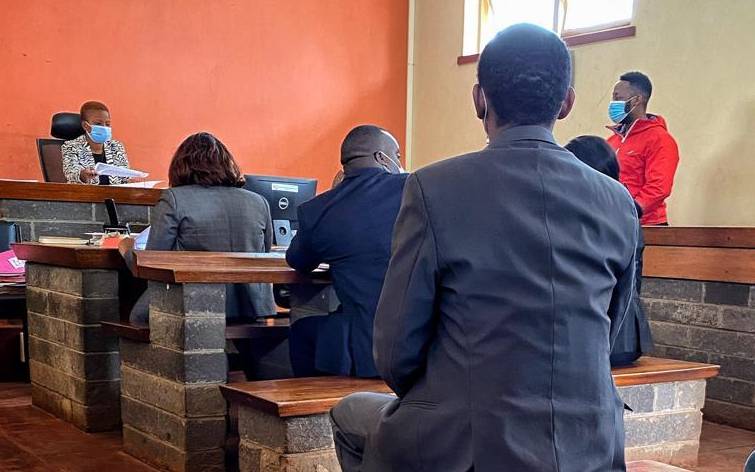 Blogger Edgar Obare has been arraigned at Kiambu Law Courts for sharing confidential travel documents of YouTuber Natalie Wanjiru Githinji alias Natalie Tewa.
Obare was charged with the offence of unlawful disclosure of personal data contrary to section 72 (3) (b) as read with section 73 of the data protection act number 24 of 2019.
His charge sheet under OB number 39/30/07/2020 reads: "On diverse dates between July 9, 2020, and July 13, 2020, at an unknown place within the Republic of Kenya, using social media accounts, domain name, www.bnn.ke, and verified Instagram account @edgarobare, unlawfully disclosed to your followers personal data of visa belonging to Natalie Wanjiru Githinji without her consent."
He was arrested on Thursday, July 30, at his Kisumu home and was brought to Nairobi and then taken to Muthaiga Police Station where he was detained over the weekend.
Read More
Blogger Christian Dela, who accompanied Obare to the court kept posting on the proceedings as he urged for support for his friend.
The court adjourned at 11.00 am ahead of the 2 pm ruling.
On Friday, after spending a night in police custody, the blogger expressed safety concerns calling on his supporters to help him get back his freedom.
"I am not safe and I don't feel safe where am (sic) being held, I have struggled with getting bail but now I understand why it's being denied. Please support #freeedgarobare," he tweeted.
Before Obare's arrest, on July 27, Tewa, on her Twitter account, blamed people whom she did not mention for soiling her name.
She posted: "We have such a terrible culture of tearing other people down in the name of gossip. There's already too much negativity in this world, contributing to it doesn't improve your life or take you higher. Instead use your time wisely, because every minute of our lives counts."
Allegations
Obare stirred debate when he linked the Youtuber to a Dubai trip by Mombasa Governor Ali Hassan Joho and Suna East MP Junet Mohamed.
The duo had travelled to Dubai to check on former PM Raila Odinga who was in the hospital after undergoing an operation.
The blogger claimed that the media personality was part of the entourage. This was after a brown handbag pictured under a coffee table the two politicians drunk their tea from went viral as Kenyans wanted to know who owned it. The blogger claimed that the YouTuber was the owner of the handbag.
However, there was no image of the television celebrity who has since denied that she was part of the entourage.