Keep off, sanitise your minds from harming others, Judge Odunga tells jilted lovers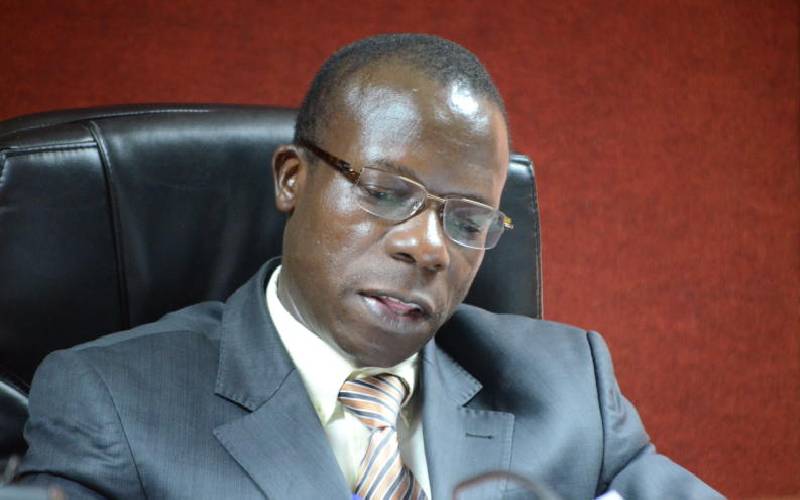 Borrowing heavily from anti-coronavirus lexicon, Justice George Odunga (pictured) waxed lyrical against spouses who stubbornly exact love from their partners even when the spring has long dried.
In a manner that has come to define him, Odunga wants spouses to sanitise their minds, keep social distance whenever quarrels arise, know that their partners are not properties and to appreciate that they have no right to lock them down when they desire to be free.
The judge was speaking in a case in which a law enforcement officer had applied for re-sentencing after the court slapped on him a death sentence, later reduced to life imprisonment, for grievously injuring his spouse and killing a daughter in a domestic quarrel.
Anthony Mwema Musyoka was found guilty for dousing his girlfriend's house at an Administration Police camp in Makueni County with petrol and setting it ablaze on May 20, 2011, an incident that saw his two year-old daughter burn to ashes and the woman remain with permanent scars.
"What one can do to avoid harming others through violence is to sanitise oneself from temptation to cause harm to a person who finds his or her company unwelcome and keep one's social distance until such a time that she or he has had his or her passion temperature normalized or he has vaccinated himself against such temptations," he said.
Odunga said one must accept the decision and move on because a partner has a right to say no at any stage of the relationship, whether before embarking on it or "in the course of the journey to Damascus, and feels you are not the rib that was meant for him".
To aggrieved partners who resort to harming third parties through "contact tracing" when relationships come to an end, Odunga said their actions ought not to be tolerated in any justice system, adding that one risks being isolated for a very long time if he goes against the law.
Murder charges
The judge declined to set Musyoka free and instead reduced the life imprisonment sentence on murdering the child to 40 years and maintained the 10-year jail term for attempting to murder his girlfriend Mary Nyakio.
Musyoka, who had differences with Nyakio, travelled from his station in Siaya County to Makueni and knocked on the window to the room where she was sleeping with their daughter on the fateful night.
Nyakio opened the window and they talked briefly before he poured some liquid into the house and ignited it, then ran away.
She grabbed her daughter and attempted to flee from the house as the fire raged but a gas cylinder in the kitchen exploded, throwing her off balance, and to the floor as she gasped for air. In the process, her baby fell and Nyakio, who was surrounded by fire managed to crawl to the door and escaped with severe burns.
Musyoka, 39, was later arrested and charged with murdering his child and attempting to murder Nyakio, a case that the High Court heard and he was found guilty on the two counts on December 14, 2012.
Aggrieved by the death sentence and 10 years slapped on him, he applied for re-sentencing in 2017 and on January 29, the court set aside the sentence and directed that a re-sentencing hearing be undertaken.
Odunga said that in re-sentencing, the court needed to consider whether incarceration of the offender is beneficial to Musyoka and the society. A report tabled in court by his community described him as an industrious and religious person who had abused drugs in his yout.
Other reports showed he was a violent person and his conduct in prison was wanting since he has been sending threatening and abusive messages to Nyakio and her family. The prison authorities are said to have intervened when it was discovered that he was sending the messages. It also emerged in court that his family had not made any reconciliatory efforts with that of Nyakio, who has been paying for her medical bills alone, and did not attend the child's funeral.