100 days later for Nairobi County; Major Badi scorecard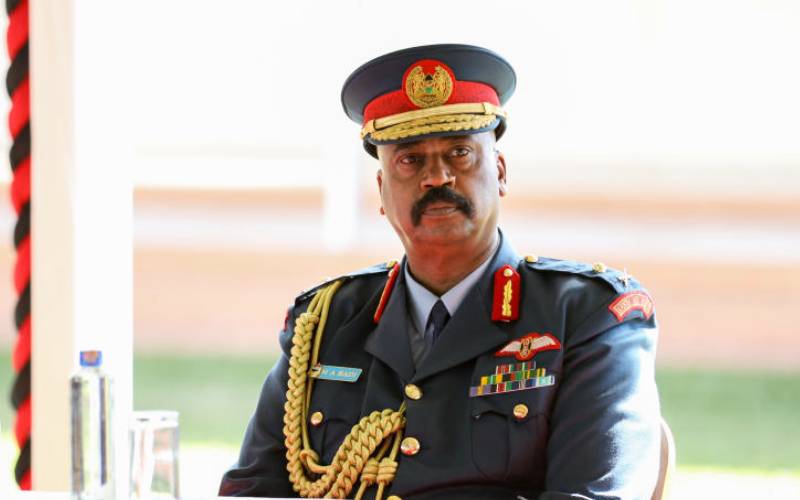 March 18 brought a new dawn to Nairobi County where President Uhuru Kenyatta created the Nairobi Metropolitan Services (NMS) office that would be under Major General Mohamed Badi of the Kenya Air Force.
The second-in-charge would be Enosh Momanyi, and together they would form the dream team commissioned to transform the city under the sun.
100 days later, the duo has transformed some aspects of the city but still, complete change is a long way coming.
Speaking to KTN News on Wednesday, the general paints his scorecard as work in progress with major wins so far.
"There were large heaps of garbage in a majority of the areas in the county. It was a huge task because we started off with limited resources together with NYS. From a 1000 collection per day, we have managed to boost it up to over 2500 tonnes collection per day. We have also managed to clear all the garbage that was heaped in various areas for almost 7 months before we took over," said Major Badi.
Earlier in the year, several litter bins within the Central Business District had been overturned with litter flowing all over, seemingly workers were frustrated by the system. Major Badi now says that everything is under control.
"I would assume non-payment to these contractors made them leave their work because their bills had accumulated and this frustrated a lot of Nairobians. We concentrated on government agencies and were able to have a multiagency effort in clearing the garbage and now we only do the normal cleaning."
Although progress is still underway, it will take about three to six months for Nairobians to feel the complete change.
"CBD is undergoing a major renovation in terms of road works and other works. Whenever there are several contractors trying to change the face of CBD into a modern city definitely you will find a lot of leftover garbage from construction works and other people who are trying to clean their areas, "says Badi and further adds that, "We had also issued an instruction to all the shops and businesses facing the roads to do beautification of their areas to ensure that once we are through Nairobi is beautified to the international standard.
In ceremony held at Statehouse on March 18 and witnessed by several government officials, services transferred to NMS included; Health, Transport, Planning and Development, and Public Works.
According to Major Badi, the four functions were in a dire state when they were being transferred to the Metropolitan Services and needed an urgent attention.
"We started off with the CBD in terms of transport and we are making all the roads that will include the non-motor able corridors which is the cycle paths and walking paths. Solid waste collection has also improved."
Availability of water has been a major challenge in the city, according to Badi, 93 boreholes were dug within the first 100 days and in addition more will be built even as improvement of piping system within the city is in progress.
"Water has been a big menace, the infrastructure itself Nairobi requires over 800,000 cubic metres per day, currently the water piping's can only supply 525,000 cubic metres per day which means we have a short fall of about 300,000 cubic metres per day that by itself causes water to be rationed," argued Major Badi.
Time and again leadership at the helm of the city has been faced with cartels who seem to threaten growth efforts done within the county something that the general agrees with.
"There were people frustrating the system by closing some pipelines in order to take that water to sell it. We have already formally registered water bowsers that we will know which point they collect to, who they pay the water to and where they distribute to. This has discouraged the people who used to tap illegally Nairobi water," said Badi.
Even as renovation of roads is underway, during floods major roads are rendered unusable due to their inability to withstand such conditions.
According to Badi this will soon be a gone story.
"There is a new system of water harvesting system for old/new infrastructure that are being built. Currently there are some engineers working on two dams and soon enough they will be completed and we will have better systems come long rains."
On the transport scorecard, Badi is looking forward to revamping the old system where buses used to transit through town therefore avoiding traffic jams.
"We will have designated parking areas for matatus and transport system like the ones coming from the west will be held at Desai and Park-Road. We have already started making these bus terminus. We are in the process of identifying government lands from Eastland areas that they will have a designated bus terminus."
"The trains will ferry personnel within CBD and from the terminus to CBD. Due to Covid-19 most of the trains and buses had been ordered from abroad but there was no transportation to bring them but within the next three months we should be seeing activity," adds the general.
He however clarifies that he is not politically affiliated to any party and he is only here to streamlines things in Nairobi County.
"I am not taking over Mike Sonko's plans but I am taking over the government plans that were there to improve Nairobi from city county days up to now. So I have combined all the plans to ensure they are implemented fully."