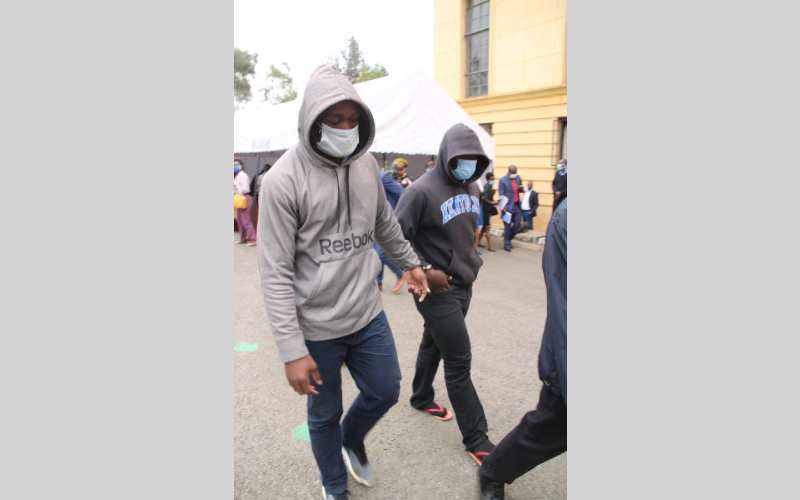 Frank Wanyama and Alex Olaba, two rugby players found guilty of rape last year and handed 15-year jail terms, were yesterday released on a cash bail of Sh300,000 each.
This was after the High Court last week ordered a retrial of their case, where they were accused of raping WA, as she was identified in court, on the night of February 10, 2018. At the time, she was an upcoming artiste.
In fresh charges read before Milimani Court's Senior Resident Magistrate Zainab Abdul yesterday, the two men denied the rape charges.
In their appeal before the High Court, Wanyama and Olaba had argued that in her ruling last August, Milimani Chief Magistrate Martha Mutuku erred by failing to consider that they had sex with WA in the belief that it was a consensual act.
Drinking game
Read More
In her testimony in court, WA said she and the two men ended up in Wanyama's house on the night in question. She recalled Wanyama suggesting they play a drinking game. She said she drank alcohol on the night in question and also smoked bhang, but she not drunk.
To her recollection, she said, Wanyama offered her a soft drink, which she drank. That was the last thing she remembered. The next thing she says she recollected was him allegedly raping her and that they took turns assaulting her.
In their second line of argument at the High Court, Wanyama and Olaba said they were drunk on that night. The two further challenged the trial that was held in the lower court by arguing that from the record provided, the star witness in the case, WA, never took a Bible to swear that what she told the court would be nothing but the truth.
Wanyama and Olaba filed 12 grounds on which they thought they had been unfairly jailed. During the trial, their lawyer, Jimmy Simiyu, told the court that the two men did not know WA before that night. However, they eventually crossed paths and ended up together in an apartment along Mbagathi Way.
The DPP, through State prosecutor Everlyne Olunga, had urged the court to slap the two with the mandatory minimum sentence for rape, which is 15 years, as they were first-time offenders.