If the family is under attack, the State is under attack warns Uhuru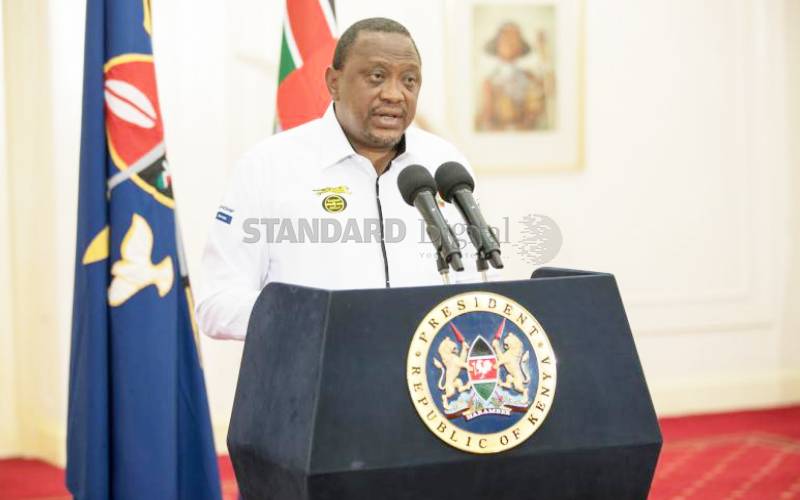 President Uhuru Kenyatta is worried that the number of gender based violence cases, mental health issues and teenage pregnancy cases have increased significantly in the country in the last few months.
In the period between April 15 to May 14, 2020 alone, FIDA-Kenya recorded over 158 cases of GBV cases from across the country.
"Turning to the social front as my last point, I am concerned by the increasing tensions within our homes. Cases of Gender-Based Violence have increased, mental health issues have worsened, and instances of teenage pregnancy have escalated," said Uhuru.
The president has now laid down instructions to bring the trend to an end.
"We must always remember that the family is a projection of the State. If the family is under attack, the State is under attack. If the family is weak, the country is weak," he warned.
"Therefore, to fortify our protection of the family as the foundation of the State, I further direct and order that the National Crime Research Centre to probe:
The escalating cases of gender-based violence;
The worrying trend of cases where the girl child has been disempowered; and
The violation of children's rights.
Gender-Based Violence Recovery Centre (GBRC) at the Jaramogi Oginga Odinga Teaching and Referral Hospital recorded up to 388 cases of defilement January and April alone, with the youngest being a 3-year-old girl.
Between April 15 and May 3, a total of 289 cases were reported to FIDA-Kenya with child custody and maintenance cases topping the list at 117 while gender based violence cases following with 81 cases.
In the month of March, the national helpline 1,195 registered an increase in gender-based violence (GBV) cases during the dusk-to-dawn curfew with 115 cases, up from 86 in February, an increase of 33.72 per cent in just three weeks.
"The cases reported have had a very devastating effect on the survivors for example one case of GBV by in laws resulted in the lady miscarrying a 4-month pregnancy while one of the rape cases resulted in the victim suffering a perforated uterus," says FIDA.
As the country slowly re-opens, the National Crime Research Centre is expected to deliver an advisory to the security agencies on remedial action by end of 30 days and initiate the prosecution of all violators.