Court allows lawyers meeting to expel two key Uhuru officers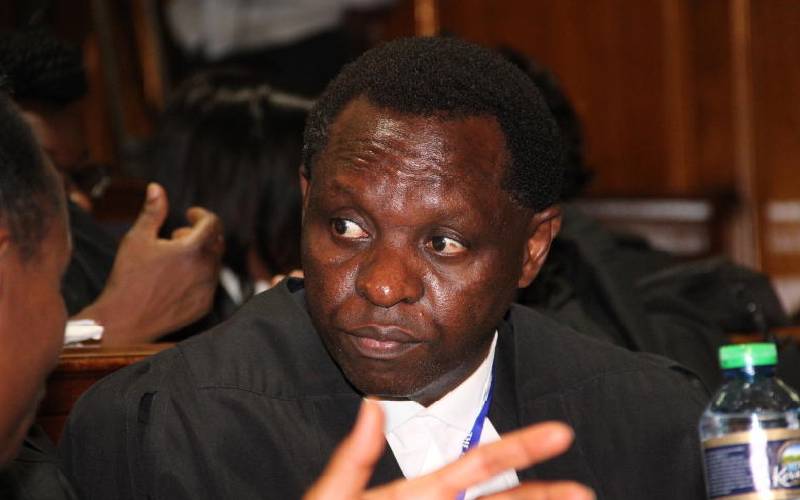 The Law Society of Kenya has been given the green light to hold a meeting it plans to kick out Attorney General Kihara Kariuki and Solicitor General Ken Ogeto.
Yesterday, the High Court allowed LSK to hold an online Annual General Meeting, which now paves the way for a duel on whether to deregister the AG and Ogeto. LSK, led by Nelson Havi, had directed the two to explain why they should not be kicked out of the society during the AGM for alleged misconduct stemming from a fight over swearing in of 41 judges nominated by Judicial Service Commission.
However, the only hurdle to LSK's meeting was the venue, as the Ministry of Health banned gatherings to minimise spread of Covid-19. Justice Jaqueline Kamau ordered LSK to serve all its members, through an email, the notice by today and all members accorded opportunity in the AGM online.
LSK CEO Mercy Wambua had asked the court to allow the lobby to hold its meeting on June 23, but the court dismissed the prayer, noting that it was floated before the court orally.
"Obviously, the disruption of the nature of Covid-19 pandemic was unprecedented and was unforeseen by human kind. The law did not envisage an AGM not taking off due to force majeure (an act of God)," Justice Kamau observed. She added: "As online banking, online schooling, online consultation and so forth are means by which people interact and achieve their objectives. There is, therefore, no reason why virtual space could not be recognised and/or accepted as a venue to meet and transact whatever business one may have."
LSK has now settled for July 23, 2020. The society council agreed on May 11 to move a Motion for the duo to be kicked out, claiming they failed to carry out their duty to advise President Uhuru Kenyatta to appoint judges whose names were forwarded to him last year.
"It is just, lawful and proper that AG Kihara and the Solicitor General be expelled from the membership of the LSK as they have brought ridicule, shame, disrepute and dishonour to the office of an advocate and a member of the LSK," the charge by the society's top decision making organ read.
It is the second time a sitting AG is facing expulsion. Kihara's predecessor Githu Muigai battled LSK after it decided to issue him with a certificate of dishonour.
However, the court quashed LSK's decision after finding that the council had no powers to summon the AG on the basis he is a member of the society.
"To purport to haul the Attorney General before the Council and censure him, on the basis that he happens to be a member of the LSK is, in our view, in itself an arrogation of power, and abuse of those powers, by the respondents," ruled Justices Weldon Korir, Mumbi Ngugi and George Odunga.