Uhuru emissaries visit CJ Maraga in mission for truce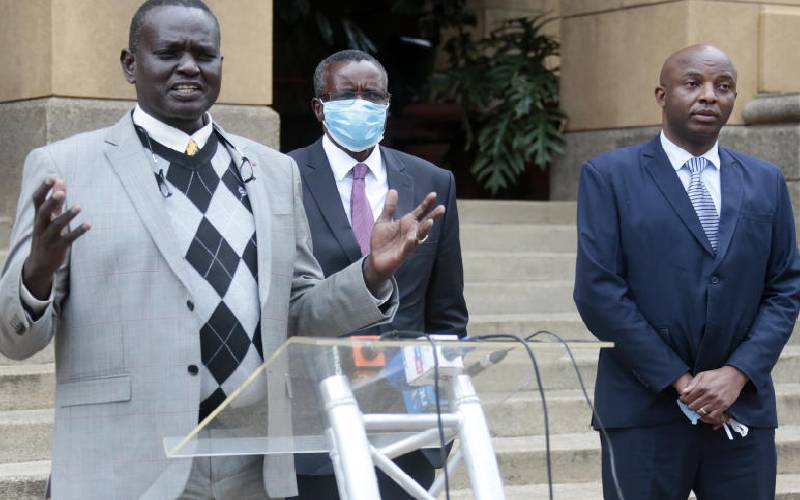 Shuttle diplomacy to quell the bad blood between the Judiciary and the Executive started in earnest yesterday, with two high-ranking senators holding private talks with Chief Justice David Maraga.
Insiders within the Judiciary, who sought anonymity, said the Majority leader in the Senate, Samuel Poghisio and the Majority Whip, Irungu Kang'ata, were under instruction to know what exactly the outburst by the Judiciary's head was all about and how the impasse could be resolved.
"They discussed the two arms of government (Executive and Judiciary), and the need to stop the wrangles and instead work together to better the country," the source said.
The senators are expected to report back to President Uhuru Kenyatta on what transpired and there was a proposal for another meeting to iron out outstanding issues.
At the heart of the meeting that lasted close to two hours, our source said, was the issue of budget allocation for the Judiciary, something which Justice Maraga asserted had hurt the Judiciary and contributed to almost halting the wheels of justice.
"The meeting was cordial and the two leaders lauded the Judiciary for using technology in its case management. Maraga raised concern about the budget; a concern the senators promised to report back to the president," the source added.
Outside the Chief Justice's office, the three said it was just a courtesy call and they discussed about how the Senate and Judiciary can work together.
Asked about the current stalemate, Poghisio said it was for the president to decide on what happens.
"Those issues have been raised before and I hope that they are being addressed. Our discussions were about the Judiciary and the Senate. It was basically a courtesy call and we wanted to know how we can collaborate as Senate and Judiciary," said Poghisio.
This comes even as the High Court will mention the case filed by Adrian Kamotho seeking to bypass President Kenyatta in the appointment process of the 41 judges on Thursday this week.
It emerges that although Kamotho had cited the Judicial Service Commission and Justice Maraga as parties in the case, they have not yet replied either in support or against his case.
Kamotho wants the court to order that the 41 judges should start working without the president's blessings as he has allegedly defied court orders, which had given him a 14-day window period.
Meanwhile, court users shunned courts on the first day of re-opening, which was yesterday.
At the Milimani Courts, for instance, the rooms remained empty while suspects took plea in tents erected at the parking lot.