I thought 'normal cold' would clear, says ACK Provost from his ICU bed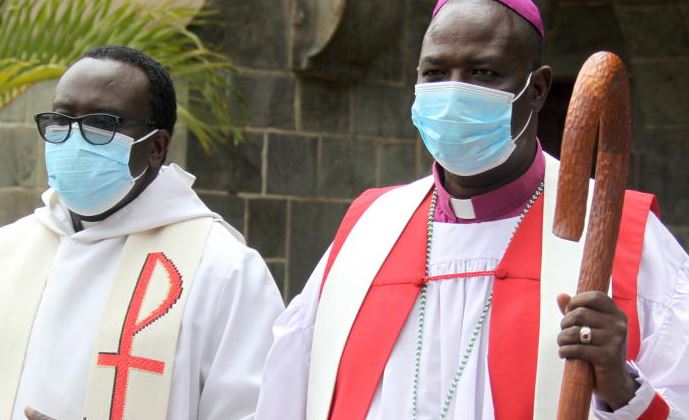 On Tuesday last week, All Saints Cathedral Provost Sammy Wainaina (pictured) developed what he thought was a normal cold.
The cold, however, persisted even after taking medicine he bought from a chemist on his way home.
"I walked into a chemist, got some antibiotics and painkillers then went home thinking it would just go away. I was wrong," the Very Rev Canon Wainaina told the Sunday Standard on the phone from the Intensive Care Unit at Aga Khan Hospital in Nairobi, where he is currently admitted for Covid-19.
Wainaina says soon he developed a nagging cough, was running a fever and started having headaches and chills. Little did he know that he was trying to treat the novel coronavirus.
Because physical church congregations have been stopped for over two months now, the cleric has been conducting online services and is unsure how he might have contracted the virus.
He says he has taken all measures and precautions as outlined by the Health Ministry. From Sunday services to being in the office, the provost says he has minimised contact.
On Wednesday last week, he still felt unwell but had one of the scheduled online church programmes to do.
"I went home and on Wednesday I did my weekly Provost's Desk Live at 9am though I felt a bit groggy and the cold did not go away," he says.
The following day, Wainaina went to Aga Khan Hospital's Mombasa Road branch after calling off all Thursday and Friday meetings.
"They did some test and put me on medication but referred me to the main hospital where I was found to have pneumonia. This prompted them to conduct a Covid-19 test," he narrates.
About five days later the hospital called and informed Wainaina that he had tested positive and needed to go for treatment. His condition later deteriorated and he had to be put in intensive care.
The provost says he is thankful to God that he is doing well and his family is fine.
On Friday evening, he sent out a message to his congregation at All Saints Cathedral about his condition.
Wainaina says people should not assume that they cannot catch the disease.
He says his assumption that what he had would just go away put his entire family – wife and three children – in harm's way.
"My advice is that once you develop a cold during this period, do not treat it merely as a cold because it could as well be coronavirus," he says, adding that looking back, he would have isolated himself from the moment he started feeling unwell.
Wainaina says the best thing for those who suspect they might be sick is to isolate so as not to risk the lives of others that might come into contact with them.
He urged Kenyans to take seriously the threat of Covid-19 and asked the government to be cautious about reopening the economy as it would be difficult to know what the country could be walking into.
"We leaders do not speak about Covid-19 and Kenyans have become casual about it but I want to tell Kenyans that it is a serious and expensive disease, which Kenyans need to really be cautious about," says Wainaina who is still at the ICU.