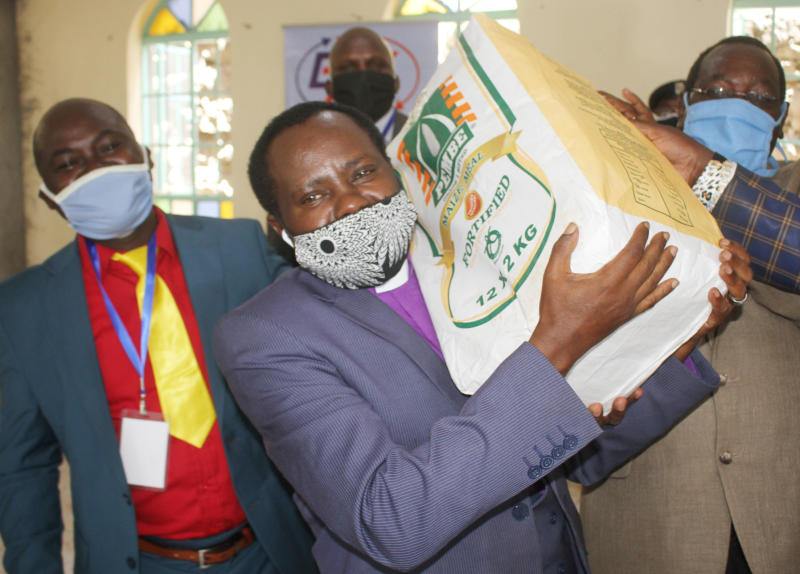 The smile on his face told it all. Upon receiving a bale of maize flour and Sh1,000, Pastor Simon Imani of Pentecost Church in Kwa Rhonda estate, Nakuru, said a silent prayer of gratitude.
The past couple of weeks have been difficult for Pastor Imani and the help from Bishop Mike Brawan of Metro church to some 12 pastors was welcome.
Imani reflects on the economic upheaval since the first Covid-19 case was reported in the country on March 13, and its effects.
"Apart from the pay from members, I was running a tailoring shop. It has become increasingly hard to get clients, and I am considering closing down," he said.
The situation is replicated across the country, with many church leaders saying they are finding it difficult to make ends meet. For many churches, programmes they operate in schools, hospitals and providing for the vulnerable in society remain suspended.
Read More
"We run eight schools spread across Nakuru, Narok, Nairobi and Western, which is home to our major school - St Michael. We are now paying teachers only 70 per cent of their salaries," Bishop Brawan said.
Bishop Dr Kepha Omae, chairman of Kenya Church Ministers Forum said effects of the pandemic have curtailed operations.
"A church operates like any other organisation. What makes an organisation is people. When people cannot meet to worship, it is a problem. It creates a ripple effect that not only affects church ministers but society at large," said Omae, who is also presiding Bishop at Redeemed Gospel Church.
Bishop Morris Mwarandu, head of the Lord's Gathering Centre said Covid-19 has affected the church in a terrible way.
"People are the backbone of our operations yet they have been banned from congregating. We can no longer visit prisons, the aged and other vulnerable people because we do not have money," said Dr Mwarandu.
Bishop Patrick Ominde of Jesus Explosion Ministries said the disease has scuttled their operations.
"We have our headquarters in Dandora, Nairobi, and we are aware that most of our members cannot afford to buy food or pay rent. We are trying to get some cash to buy them food but it is hard on us," Bishop Ominde said.
He added, "We are also unable to pay our pastors who also have families to provide for. We do not have a donor and all are our operations are funded by our members."
Bishop Dr David Oginde of Christ is the Answer Ministry (Citam) said the pandemic has presented a sobering moment that requires the church to be innovative and adapt to changing times.
"Like any other sector of the economy, we have put in measures to cope with effects of the pandemic. We are lucky we have a university that has been offering online lessons to students from 2007. This has roped in teachers in our 10 schools in Nairobi and Kisumu, where we offer online lessons," he said.
Not all churches, however, are holding back in these difficult times. For example, to assist its members, the Seventh-Day Adventist Church, Ngong' Road is giving back a percentage of tithe to its members who have been consistent in giving in the past three years. Kisumu Catholic Archbishop Philip Anyolo said the number of those in need was growing.
"We have food that is sustaining the clergy, but soon families will turn to the church to provide for them," he said.
Nyanza's chairman of Interdenominational of Churches Archbishop Ogonyo Ngede said paying rent has become difficult for some clergy.
"Paying bills has become a challenge since we have employees we have to pay monthly," he said.
At Grace Empowerment Ministries Church in Lakeview, Nakuru founder Pastor Martha Mwangi said running a church is no longer the same.
"I lease the space where my church sits at Sh23,000 per month. Before the coronavirus pandemic we were able to comfortably pay rent. Raising the amount today is a great challenge," she said.
Rev Samuel Manyonyi, National Chairman Alliance of Registered Churches Kenya and presiding Bishop Hope of God Gospel Mission called on clergymen to empower their followers economically.
"The question of offerings and tithe should not be a challenge to pastors; The clergy must engage in income-generating activities and help the congregation become economically stable," said Rev Manyonyi.
Arch Bishop Moses Aduol of Kisumu's Legio Maria Church Arch Diocese said church offerings have dried up. "We have been helping about 300 widows and orphans, but this has now become a challenge," said Bishop Aduol.
In Kisii, presiding Pastor of the Gospel Embassy Chapel, Peter Morwabe said they are currently using savings to ensure key staff are paid. "We do not know what will happen if this crisis continues," said Pastor Morwabe.
Pastor Ken Junior of Power and Restoration Church in Kibwezi, has turned to farming onions and tomatoes to help make ends meet.
"I decided to do some irrigation farming. This will help me together with other church members who are low income earners," he said.
[Kennedy Gachuhi, Protus Onyango, Brian Kisanji, Eric Lungai, John Shilitsa, Edwin Nyarangi, Anne Atieno, Stevens Muendo and Stephen Nzioka]