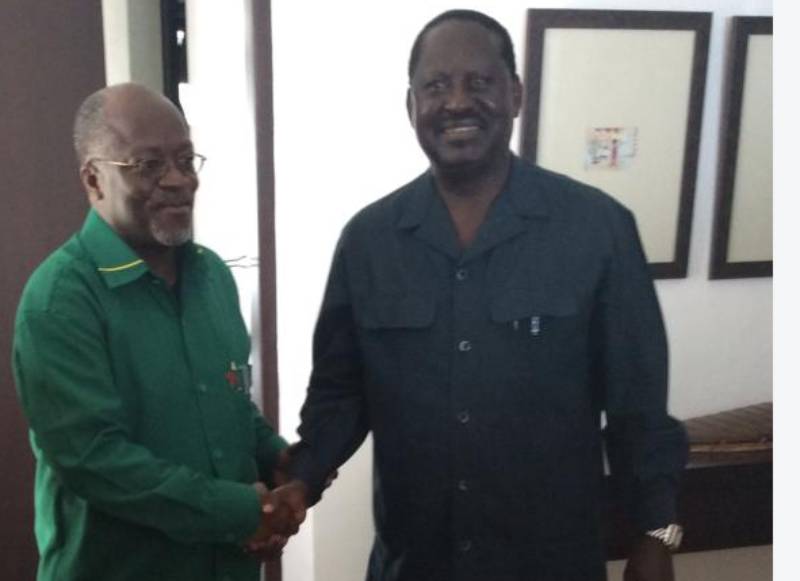 Opposition leader Raila Odinga yesterday denounced Tanzania President John Pombe Magufuli for his Covid-19 policies that have raised fears of runaway coronavirus crisis in the region.
Raila, a close friend of Magufuli, also revealed that the Tanzanian president had refused to heed advice from other regional leaders, including President Uhuru Kenyatta, Uganda's Yoweri Museveni and Rwanda's Paul Kagame to abandon his unconventional policies on the disease.
He said his own efforts to reach out to the Tanzanian president have been futile, and Magufuli is yet to respond to messages left on his automatic answering machine.
As a result, he warned, the closely connected region risks descending into a calamity as President Magufuli holds on to his business-as-usual call to Tanzanians.
The AU High Representative for Infrastructure said the region's destiny is joined at the hip and no country should pull separate moves that could be detrimental to the others.
Read More
"As nationalist, he needs to get information from fellow regional leaders... This is a regional issue. Our destiny is tied together. We do not want a situation where any of these countries will have to close their borders. That is why dialogue is the most important thing," Raila said.
The former prime minister was speaking in an interview with British Broadcasting Corporation (BBC).
Magufuli has come under pressure for his Covid-19 policies that have divided opinion on the continent.
He has disputed the efficacy of testing kits in his country and last week sacked the head of the country's National Referral Laboratory after random samples allegedly taken from animals and fruits tested positive for coronavirus.
And as cases in Tanzania soar, Magufuli has downplayed calls for a lockdown, instead encouraging his countrymen to 'chapa kazi' (work hard) in their farms and businesses.
He has also backed a purported coronavirus herbal cure from Madagascar that is yet to be approved by the World Health Organisation.
Grossly exaggerated
The president has also asked Tanzania's to pray away the virus, and argued that case figure are grossly exaggerated.
Tanzania has so far recorded about 500 cases, according to official figures.
Four cases were recorded in Migori County and another two in Kajiado County. The two regions are entry and exit points to and from Tanzania. Of Kenya's new 28 positive cases recorded yesterday, four were Tanzanian nationals.
BBC's Swahili Service quoted a member of ruling party Chama Cha Mapinduzi saying that that the president better understands the situation in his country and should be left alone to lead the fight. MP Job Lusinde Kibabaje said Magufuli's policies have worked well so far.