Lawyers protest extended closure of lands registries, wants courts reopened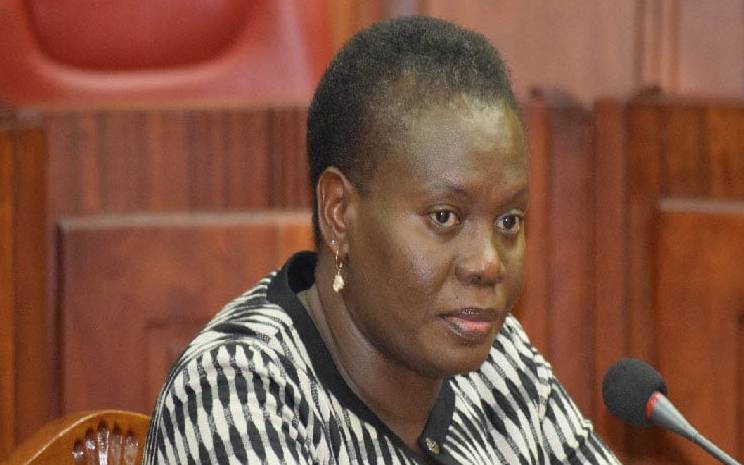 Lawyers have protested a decision by the Ministry of Lands to keep its offices closed for another two weeks.
In a letter to Lands Cabinet Secretary Farida Karoney (picture), the Law Society of Kenya (LSK) argues that the continued closure of lands registries was affecting several land transactions with set timelines.
As a result, those involved in the transactions are being forced to part with huge penalties.
LSK is also accusing the ministry of reneging on an agreement they reached to suspend all timelines for registration of land.
"It is possible to achieve the government purpose of scaling down operations due to the coronavirus pandemic by allowing limited services at the lands registries like enforcing court orders, valuations, stamp duty, transfers, and discharges," said LSK said in the letter signed by its president Nelson Havi.
Ms Karoney had on March 17 issued a notice for closure of all land registries for 28 days as a measure to contain spread of coronavirus.
However, on Tuesday, after the expiry of the 28 days, the CS extended the closure for a further 14 days.
This was on the advice of the National Emergency Response Committee on Management of Covid-19 to allow the government monitor the pandemic.
LSK claims that the backlog of transactions is affecting several people and wants the Ministry of Lands to immediately issue guidelines for online transactions to speed up the process.
"A gazette notice should forthwith be issued suspending all statutory timelines for any service that is not offered until the land registries resume operations," said Havi.
Lawyers are also pushing for the reopening of courts, arguing that the continued closure over coronavirus is affecting their practice and livelihoods.
According to Havi, Chief Justice David Maraga has abdicated his duties for restricting court operations which has allowed the Executive to take over adjudication of disputes.
"It is an abdication of duty on the part of the CJ to close down courts. He should take the example of South African Chief Justice Thomas Mogoeng, who has ordered the courts to be open despite the increasing numbers of Covid-19 cases in their country," said Havi.
Former LSK president Allen Gichuhi averred that the situation was so bad that he fears many law firms will be closed by end of April for lack of money to sustain their operations.
According to Gichuhi, the National Council on Administration of Justice should convene an urgent meeting to find ways of helping lawyers go back to practice.
"It is so bad. Lawyers cannot make money for lack of practice and if the situation persists, we will not be able to pay salaries to our staff by end of April. We are going to render our employees jobless and close some law firms," said Mr Gichuhi.
Henry Kurauka, a lawyer, said the coronavirus has hit the legal profession so hard, with many lawyers struggling to make ends meet following the closure of courts.
He said most lawyers earn through litigation and conveyance, which means they have nothing since the courts and land registries closed.
"We are losing court attendance fees and instruction fees. Most of us operate on a day-to-day basis when we go to our offices with hopes that we will get a new client to earn a living. Since clients pay for services delivered, it means we have nothing because we can't offer services," said Mr Kurauka.
Eunice Lumallas, another lawyer, said law firms are like business enterprises which rely on clients to make income and if the courts continue to be closed, they will be pushed out of business for lack of legal fees.
Angela Mwadumbo, still another lawyer, also blamed the closure of all courts for the profession's dwindling income, arguing that the CJ should have allowed old cases to continue to conclusion.
"Where are we supposed to get our daily bread when the courts are closed? Land registries are also closed, which means we are not able to earn," said Ms Mwadumbo.