Light moments in Parliament amid coronavirus fears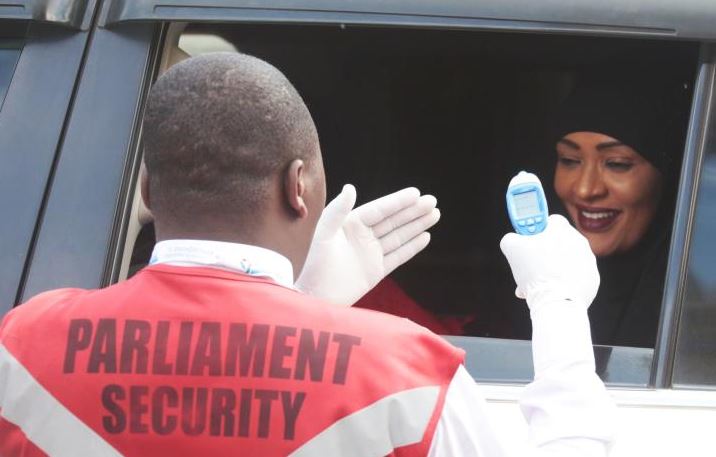 This week, Parliament adjourned owing to the global coronavirus pandemic. In and around the August House, strict measures were employed to prevent the spread of the virus, with hand sanitisers placed at strategic points within the premises.
At the gates, temperature-screening was conducted followed by mandatory hand sanitisation for all getting into the precincts. On the floor of the house, adequate measures were also put in place. MPs were not taking any chances.
Leader of Majority in the National Assembly Aden Duale seemed to be itching to talk about the pandemic that has shaken the world, rising to speak as soon as the House was called to order, amid calls that MPs sit one metre apart.
"I was telling Jimmy Angwenyi (that) because of his age, he is more susceptible to these coronas so he should take a leave. He should go away," he said.
Convinced by Duale's apparent medical expertise, a subdued Angwenyi obliged and hurriedly exited the house, much to Duale's surprise as he had made the comment in jest.
Speaker Justin Muturi also seemed convinced by Duale's case and ordered one side of the door opened so that "even the elderly would feel safe."
The Kitutu Chache North MP was not alone on the journey out of bunge. Two others would later be kicked out, not for their safety, but for the safety of others.
Before that, however, one MP was spotted taking equally drastic measures. As Duale spoke his mind, the MP could be seen in the background blocking access to the two seats adjacent to his as soon as he saw Murang'a Woman Representative Sabina Chege approach the row in which he sat.
His social-distancing plan of placing his hands on the two seats proved successful as Chege would sit at the end of the row, one seat away. His plan only worked for a while as he was later forced to accommodate more members who trooped in.
Eldas MP Adan Keynan and Taveta's Naomi Shaban, both of whom were later asked to leave, had been said to have jetted back in from a foreign trip. Their presence in the House was enough to throw MPs into panic.
Shaban's ejection resulted from a successful request by Endebbes MP Robert Pukose, who charged that her presence in the House was hazardous to her colleagues.
But before Pukose could return to his seat, it was already Keynan's turn. Calls by MPs to have him kicked out caught the speaker's attention, and he sought to know when Keynan had returned into the country.
"I came back a long time ago," he answered, but his colleagues would have none of it, chasing him out with chants of "Quarantine! Quarantine!"
Kitui South's Rachel Nyamai assumed the role of disinfecting the space left vacant by Keynan's exit. But her choice of disinfectant raised eyebrows as members rose to protest. Duale, as usual, went first, demanding that it be checked.
Ichungwa would later follow, terming the alleged disinfectant as a possible security threat. Apparently, Duale was the only one authorised to speak on the matter, as he would shut down Ichungwa's remarks, saying debate on the issue had been closed.
Keynan and Shaban were not the only ones causing panic in the House. Earlier, Laikipia West MP Patrick Mariru, acting as speaker, wondered why there was an increased movement in the House.
And when the 'quarantined' Kiminini MP Chris Wamalwa rose to second a Motion by Ichungwa, there was no doubt as to why his neighbours were taking off.
"I second and I must add that Kenya is going through a crisis," he said in a hoarse and seemingly lost voice, unsettling his fellow MPs who argued that he displayed symptoms of the coronavirus. Mairiru, however, acted swiftly, assuring that Wamalwa's hoarse voice was no cause for concern. Not everyone was convinced though. Minority Whip Junet Mohamed, who sat next to Wamalwa, could not hide his fears.