Nairobi assembly to hold special sitting to eulogise Moi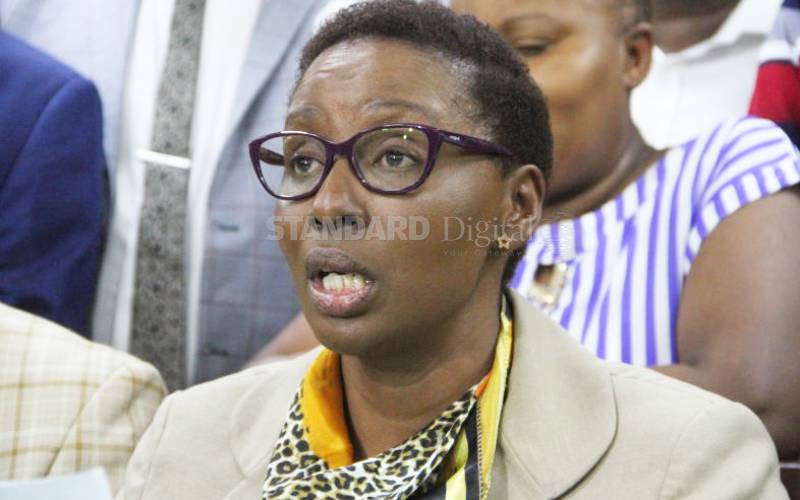 The Nairobi County Assembly will today Monday hold a special sitting to eulogise the late former President Daniel Toroitich Arap Moi.
County speaker Beatrice Elachi (pictured), through a gazette notice, said the siting will also be to allow the county assembly to postpone the resumption date to February 18, 2020, following a two-month recess.
The assembly was expected to resume plenary sittings on Tuesday, February 11.
Assembly majority leader Charles Thuo confirmed members are aware of the sitting and are ready to give their last respects to the second President of Kenya.
"It is during the sitting that we will also deliberate on adjourning the resumption date of the assembly as proposed by the speaker," said Thuo.
Minority Leader David Mberia also confirmed that the agenda of the sitting is to postpone the resumption of the assembly plenary sittings.
"We were to resume on Tuesday, which has been declared a public holiday as the country is also mourning Moi, so we had to have a special sitting to set a new date," said Mberia, who also doubles as Karen MCA.
Minority Whip Peter Imwatok echoed Mberia's sentiments, saying the sitting is to extend the assembly's resumption date to Tuesday.
Imwatok said the assembly cannot be left open and as such, the House Business Committee has to sit and postpone the resumption in a legally binding manner.
Moi died on Tuesday last week while receiving treatment at Nairobi Hospital.
The body of the former President has been lying-in-state at Parliament Buildings for two days where Kenyans have been going for public viewing.
A mass will be held at Nyayo Stadium on Tuesday for the former president.
His body will be transported to Kabarak on Wednesday for burial.