New Cabinet casts ray of hope in push for gender balance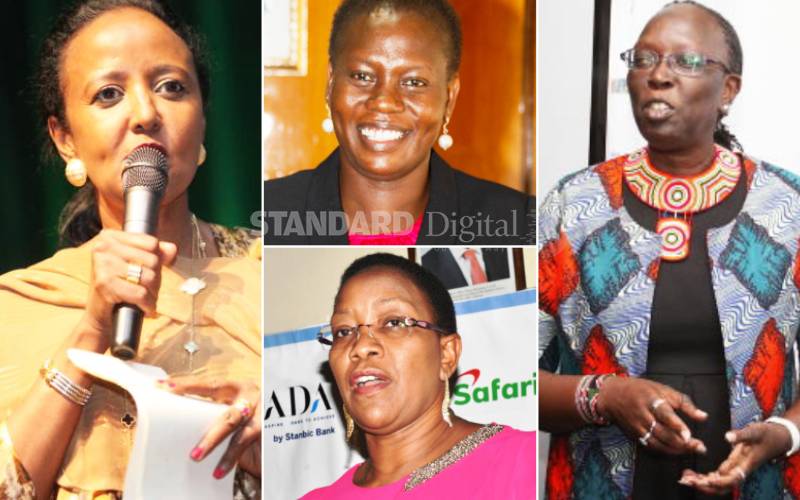 The nomination of Betty Maina as Industrialisation CS has cast a ray of hope for a gender-balanced Cabinet.
President Uhuru Kenyatta also appointed 15 new chief administrative secretaries, eight of whom were women.
With Maina's nomination, the Cabinet now has seven women members.
They are Amina Mohamed (Sports, Culture & Heritage), Margaret Kobia (Public Service & Gender) and Farida Karoney (Lands & Physical Planning).
Others are Raychelle Omamo (Foreign Affairs), Sicily Kariuki (Water) and Monica Juma (Defence).
But seven women in a 21-member Cabinet (excluding the President, Deputy President and AG) seems far off, compared to what other countries in the region have done.
Speaking to Standard Digital, Narc-Kenya party leader Martha Karua says Cabinet is yet to achieve the not more than two-thirds gender rule.
"The President today appointed 21 cabinet secretaries to which you add the President, his deputy, and the AG making a total of 24 members of which seven are women ... We are far to (sic) achieving compliance."
She went on, "We have moved from 25 per cent to 29.1. Good move, but not enough."
Rwanda and Ethiopia are listed as nations with 50 per cent women in the Cabinets.
In November last year, the Independent reported that President Paul Kagame reshuffled his cabinet to have women make up 52 per cent of the Cabinet.
"A higher number of women in decision-making roles have led to a decrease in gender discrimination and gender-based crimes," Kagame was quoted.
In a 2018 article, the Global Citizen reported that when there are more women in political office, policies that promote the rights of girls and women are prioritised.
However, this may not be the case in Kenya as most of the Woman Representatives have been criticised for doing little to address matters affecting women and girls.
Nairobi's Esther Passaris has in the past attributed this to low funds, saying she may sit in Parliament, where the MPs get funds to channel to projects in their constituency, but as a Woman Rep she is expected to address matters in her entire county.
Rwanda women's representation in Parliament stands at 61 per cent.
In Ethiopia, the 50 per cent female representation announced on October 16, 2018, listed 10 women who run Defence, Trade, Transport, and the Ministry of Peace set up to end ethnic violence.
Prime Minister Abiy Ahmed said the move "showed respect" to women's participation in governance and to stop the notion that women cannot lead.
In his address, Abiy added that women are "less corrupt" compared to their male counterparts.
Much as countries strive to have more women in leadership roles, the UN admits that women are still under-represented in political leadership posts.
According to the UN Women and the Inter-parliamentary Union 2019 Women in Politics January index, women make up 24.3 per cent of parliamentarians and 20.7 per cent of ministers.
While the numbers are not as encouraging, they are the highest women have ever been involved in politics.
National Gender Equality Commission member Priscilla Nyokabi last November said, "A country is like a plane that needs twin engines for it to move and counter currents. Men and women must be involved in leadership for our Kenyan plane to gain speed, move forward and reach its destination."