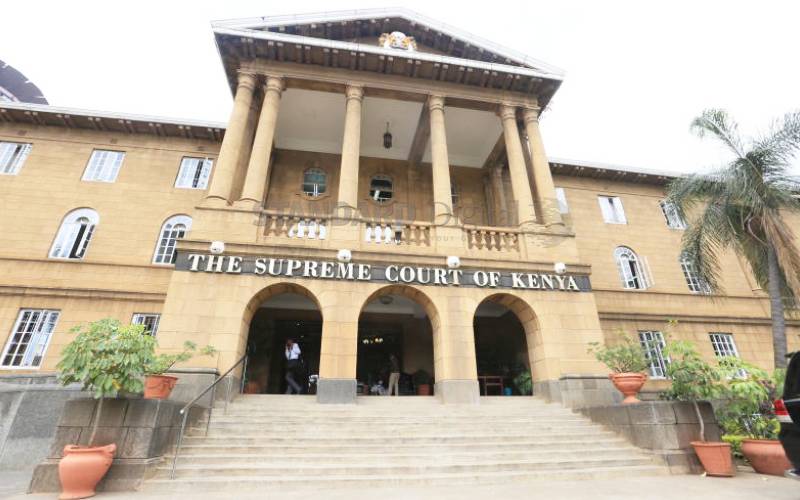 The Supreme Court has dismissed a case by six doctors who had accused Kenya Medical Research Institute (Kemri) of racial discrimination. In a unanimous decision, Justices Mohammed Ibrahim, Smokin Wanjala, Njoki Ndung'u and Isaac Lenaola agreed with the Court of Appeal that the former Kemri employees had not proven their claims that the research firm offered white expatriates better terms compared to Africans. The doctors, Samson Gwer, Michael Mwaniki, Nahashon Thuo, John Wangai, Moses Ndiritu and Albert Komba, had won the case before the labour court, which had found that Kemri had discriminated against them based on colour.
SEE ALSO: Covid-19: Siaya begins testing staff, MCAs to curb virus spread
The labour court awarded each of the doctors Sh5 million as compensation, but Kemri appealed the decision at the Court of Appeal and it was overturned. Aggrieved, the doctors moved to the Supreme Court, arguing that no Kenyan was in Kemri's top position and that white expatriates were given better employment terms. However, the Supreme Court judges, in their judgement read by Justice Jackton Ojwang yesterday, found the burden of proof lay on the six. That they ought to have produced evidence of their claims to persuade the court to rule in their favour. "The allegations of discrimination are captured in emails and petition itself. The petitioner did not deny they were in a contract which specifically spelt out the terms of contract. It is also not disputed that the respondent had no control on the terms of contract of foreigners. They ought to have provided sufficient evidence to help the court," said Justice Ojwang. The doctors alleged that Kemri had a discriminatory employment framework, pay inequalities, granted funds to non-residents and distributed senior positions to expatriates alone.
SEE ALSO: Gathungu sworn-in as new Auditor General
Through their lawyer John Chigiti, they complained that the institute was not committed to racial equality. According to the six, they were handed short-term contracts which were unclear and oppressive. "Because of the racially discriminatory criteria, virtually all funding goes to white expatriates. The period 2005-2010 shows grants in millions of pounds to Kemri – WT programme from Wellcome Trust and how the same was distributed to the staff of the respondent by race," argued Chigiti. He continued: "That plagiarism which appropriates another person's ideas processes, results or words without giving appropriate credit is rampant at the institution. This appropriation of the ideas and results of others, and publishing as to make it appear the author had performed all the work under which the data was obtained when it was not the case." Kemri in its reply argued it did not directly employ foreign researchers and those visiting retained their career structures and terms of employment of their home institutes and universities. The institute, through its lawyer Peter Munge, argued it had no control of what foreign researchers earned.
SEE ALSO: Counties still can't test four months after virus struck
"Kemri had in place an extremely well-funded remuneration structure that was competitive and better than what the doctors' peers were paid in the public sector and elsewhere," argued Munge. He added that Kemri had a robust training policy towards PhD.