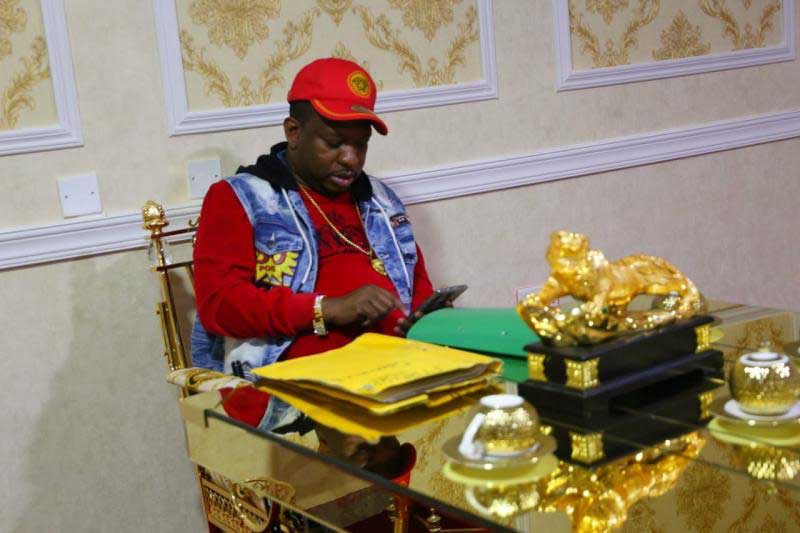 The governor's name has been a consistent feature in land-related legal disputes, according to court records
Officials admit that most records on how he left Shimo la Tewa prison in 1999 and the preceding trial cannot be traced at the prison and Mombasa law courts.
Governor Mike Sonko's departure from Shimo la Tewa Prison 20 years ago while on trial for fraud is a matter of public notoriety, but not the only legal dispute he has been involved in at the Coast.
Sonko's roller-coaster lifestyle began in Kwale where he was born, swept to Mombasa before bursting onto the political scene in Nairobi in 2009. Officials admit that most records on how Sonko left prison in 1999 and the preceding trial cannot be traced at the prison and Mombasa law courts.
Mid-January last year, a German woman, Monika Herta Elfriede Behrmann, laid claim to a disputed Sh183 million land in Kilifi at the heart of an altercation that sucked in Sonko. Monika averred she bought the land in 1994 from Mubia Holdings Limited for 20,000 Deutsche Mark (Sh2 million) and later sold it to Caroline Mwelu Mwandika for Sh23 million, but the latter violated the terms of sale by paying only Sh2 million, and she sought court redress.
Ms Mwandika, who is allegedly related to the governor, still lived on the property despite a court judgement that restored the farm to Monika. Weeks later, groups of youths and residents allied to Mwandika on one side and Monika and her companion Joseph Lenguris on the other, clashed on the property, forcing police intervention.
Mr Lenguris later claimed Sonko and his bodyguards stormed the property and opened fire, a claim disputed by police and the governor. There were also reports that Sonko had tried to mediate between Mwandika and Monika.
Monika later confirmed claims by lawyer Benjamin Musyoki, who represented Mwandika, that in January 2018 Sonko sought a peaceful and amicable solution between them. There are at least two other key court cases in Mombasa in which Sonko has appeared as a prosecution witness.
In one of them, he allegedly acted as an agent while in another, he is facing a defamation suit filed by a lawyer, who also wants him charged for fraud in a Sh16 million land trial dating back to mid-2009, before Sonko was elected Makadara MP.
The lawyer, Lucy Momanyi, has written to the Director of Public Prosecutions (DPP) several times questioning why Sonko was turned into a State witness and not a co-suspect in the trial of Ruwa Mwaruwa Kurera, who is charged in criminal case 929/2012 with fraudulently obtaining money from a German, Morgenstern Joachim, by pretending he could sell him land which he did not own in Shanzu area of Mombasa.
Claims of blackmail
During the alleged transaction in 2009, Sonko allegedly posed as the accused's son when Ruwa reportedly received Sh16 million in cash inside a bank.
Ms Momanyi, the complainant's lawyer, told the court on July 4, 2017 that the case has been stalling since 2012, delaying justice for her client.
In a letter to the DPP in 2014, Momanyi asked that the (then) senator be investigated over the fraud after alleging Sonko had been trying to blackmail her to stop demanding for his prosecution in the case. In her statement of February 28, 2014, Momanyi complained that Sonko called her several times threatening her, claims that Sonko has denied.
On June 6, 2012 in a different letter to the DPP, Momanyi wrote saying Mr Joachim recognised the senator as one of the suspects, yet Sonko had not been charged along with Kurera, who allegedly posed as a sick person in need of money to travel to India for urgent medical attention.
In a police statement dated October 16, 2010, Sonko denied benefiting financially from the fraud as alleged by the German.
He also denied having used an identity card bearing the name Mike Munga Kurera and his photograph during the alleged transaction.
"I was informed that the said identity card had been used by somebody who fraudulently assisted one Ruwa Mwaruwa Kurera to obtain Sh16 million from a German national by falsely pretending that he had a beach plot in Shanzu for sale," says Sonko in the statement.
On June 8, 2016, Sonko admitted before a Mombasa magistrate that he acted as an agent in the sale of a Sh29 million- piece of land in Mombasa for which another businessman, Afzal Ahmedali, was charged. Sonko participated in the sale, which the State said was illegal, a few weeks before he was elected Makadara Member of Parliament in Nairobi in late 2009.
Mr Ahmedali was accused of selling a property in Bamburi to two brothers from Kajiado, which the State said did not belong to him. The State also said the businessman forged a title deed for the property four years before selling it.
Sonko told Chief Magistrate Julius Nang'ea that he had acted as a real estate agent in the sale and was paid Sh870,000 as commission by Ahmedali for the transaction.
"I was only providing agency services and after the transaction, Ahmedali paid me Sh870,000 as my commission," Sonko testified.
Ahmedali faced three counts of fraud, including making a fake title deed on August 19, 2005, in Mombasa, with intent to defraud. He was charged with presenting a forged document to lawyer Kanaiyal Mohamnal Pandya at his office in Mombasa on July 27, 2009. He was also charged with swindling the two brothers of Sh29 million between July 31 and September 17, 2009.
Sonko testified that he met Hitteshi Pravin Dave and Rajesh Pravin Dave, flower farmers from Kajiado who wanted to buy a piece of land at Nyali through Pandya Hitesh Advocates, one of the law firms he was dealing with.
The then future governor said he introduced Ahmedali as the owner of the piece of land in Nyali to Pandya Hitesh Advocates and was to be paid a commission after the transaction was concluded.
"Pandya Hitesh advocates asked me to assist their clients get land to buy at Nyali. I identified some land belonging to Ahmedali and I introduced him to Pandya advocates. I was to be paid a commission thereafter," said Sonko.
Sonko further said he started transacting in real estate business from 1996 until 2009 through his P and P Group of Companies. The investigating officer in Ahmedali's trial, Millicent Ouko, said Sonko used the names Mike Munga and Mika Musa as a land estate agent for Ahmedali to sell the land that belonged to Tecaflex Ltd to the two brothers. Tecaflex allegedly bought the land from Bamburi Cement Limited.
"There were no such documents in the lands office indicating a transfer between Tecaflex and Ahmedali. The original transfer is from Bamburi Cement Limited to Tekaflex, who are the real owners of the property," said Ouko.
Ahmedali is said to have received a first payment of Sh3 million and another Sh15 million from Standard Chartered in Westlands, Nairobi. He also received a further Sh10 million from Victoria Bank and finally Sh1 million from I&M Bank. According to Hittesh, they first met Sonko at the offices of AB Patel Advocates law firm in Mombasa, where he introduced himself as Mike Musa, an agent of Ahmedali's.
DROVE BROTHERS
Hittesh testified that while at the law firm, his lawyer Mr Pandya told him that an agent would be sent to take him to properties he could buy. Sonko arrived and drove the brothers to Nyali in his car.
Hittesh said: "He was an African in his 40s. He was called Mike Musa. He drove me in his car to Nyali. He showed me the house; I saw a sign board showing the house was for sale, but I did not like it. He told me there was another property in Bamburi."
Meanwhile, on the Monika land saga in Kikambala, court documents seen by The Standard and which we confirmed from the Kenya Law Reform, the German woman sold the property to Mwandiku.
The papers also indicate that on January 23, 2014, Tonny Kamande and Patrick Kuria Mwangi incorporated a new company with the same name Mubia Holdings, but with different directors, to acquire a title for the same land.
According to the judgement restoring the property to Monika, the new directors fraudulently purported to sell the same property to Mwandiku.
On April 11, 2017, the Environment and Land Court in Mombasa ruled that action by Mr Kamande and Mr Mwangi was fraudulent and quashed it before restoring the property to Monika.
"It is the plaintiffs' contention that on January 23, 2014, one Caroline Mwelu Mwandiku through proxies Tonny Kamande and Patrick Kuria Mwangi incorporated a new company with the same name as Mubia Holdings Limited and thereafter fraudulently obtained a provisional title over the suit property," states the court documents.
The judgement by Justice C Yano states that Monika lodged a complaint with the National Land Commission and the commission later determined that land belonged to her.
"The defendant (Mwandiku) was served with the summons to enter an appearance, but failed to do so. The interlocutory judgement was entered against her in default of appearance on May 16, 2016," states the documents, which are also available on the Kenya Law Reform website.
Justice Yano ruled that the land belongs to Monika and cancelled the registration of Mubia Holdings Limited as the owners. On April 20, 2017 Monika was issued with a provisional certificate of title by the Registrar of Titles.