Sarah Wairimu wants to have her Kitusuru house back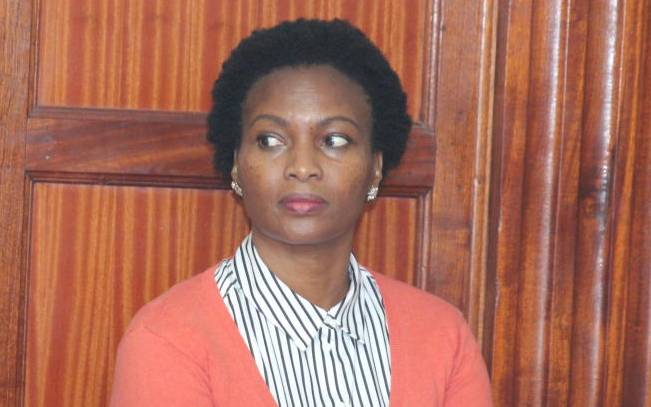 Sarah Wairimu (pictured), the wife of the late Dutch national Tob Cohen, now wants to have her house in Kitisuru back.
Through lawyer Philip Murgor, Wairimu told the court yesterday that she cannot understand why the prosecution wants to keep her house, which is not part of the evidence.
"The prosecution has failed to respond to our application dated November 12, 2019, in which my client is seeking to have her house and other possessions back," added Murgor.
Mr Murgor added that she also needs clothes, shoes and a car parked outside the house that has been cordoned off as a crime scene.
He added that unless the police have other motives with the house, it should be released back to Wairimu who is the owner.
Wairimu argued that she should be allowed to collect her clothes from the house that has been cordoned off as a crime scene.
Murgor said his client needs the car, which is parked outside her house. He said Ms Wairimu has been surviving on lifts from relatives and friends. "My client had to buy new clothes, shoes, and accessories.
The purchases are expensive. She needs the old ones that are in her bedroom urgently," said Murgor.
Lawyer Cliff Ombeta who is representing the family of the late Cohen said that there is a will that indicates that the house does not belong to Wairimu.
"The access cannot be allowed to have the ownership of the house that does not belong to her," added Ombeta.
Ombeta added that the house is no longer Wairimu's.
At the same time, prosecutor Alexander Muteti said that he needed time to file a response to an application by Wairimu to have the house back.
He said that the matter was being handled by state counsel Catherine Mutuku who is indisposed and she could not have received the application.
Judge Stella Mutuku directed him to file written submission and serve the defense in two weeks' time.
The prosecution has lined up 17 witnesses who will testify in the case.
Seven statements were yesterday provided to the defense.
Muteti said that the rest of the statements will be provided later because they are waiting for forensic reports from pathologists and other experts.
"We have some statements that are yet to be finalized and we request for further mention for a pre-trial conference," added Muteti.
Muteti added that some of the witnesses need to be placed under protection.
Murgor said that it is now 75 days since Wairimu was arrested and each time the matter comes, the prosecution says that they need more time to place witnesses under protection.
"We are given stipends of documents but what we need is all the documents because the law requires that all the evidential documents be supplied to the defense before the beginning of a trial," added Murgor.
Murgor said that he has also made an application to have phone data records of senior investigation officers involved in this murder case.
Muteti, on the other hand, said that that application should be dismissed because Murgor has not indicated why he needs that private information.
"The prosecutors and police are also covered under the right to privacy and also Murgor could be having other intentions, not in good faith," added Muteti.
The matter will be mentioned on December 11, 2019, at 9 am.
It will be heard on July 6,7,8,9,13,14,15 and 16th of 2020.