Gakuru widow's testimony paints a chaotic family life of the former county chief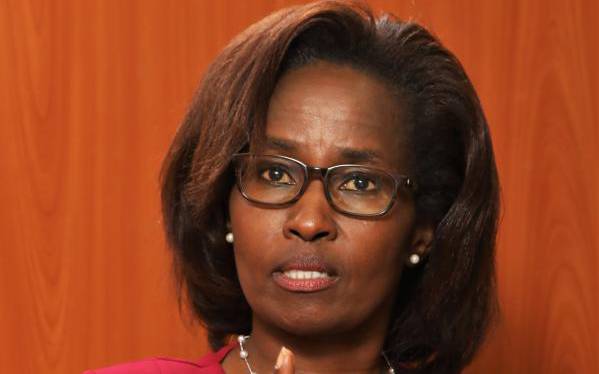 Former Nyeri Governor Wahome Gakuru had been pursuing a divorce from his wife since 2013.
In evidence presented yesterday at an inquest into the county chief's death in November 2017, his widow Catherine Wahome added that she was not aware the governor had listed his brother Maina Gakuru as his next of kin in the county government's pension and benefits scheme.
She denied claims from lawyer Martha Waweru, who is representing the Gakuru family, that she was part of a bigger conspiracy, which included Gakuru's former driver and personal assistant, to eliminate the then county chief.
In her three-hour testimony at the Nyeri Magistrate's Court, Mrs Wahome further admitted that he had sired a child outside their marriage, with DNA tests confirming this.
Wahome told Nyeri Chief Magistrate Wendy Kagendo that by the time her husband died in a road accident, the divorce suit filed five years earlier was yet to be heard.
"I had not been separated from him or living separately. We were living like a husband and wife, with secondary differences normal in any family," she said.
Different addresses
Although she admitted they lived in different addresses, Ms Wahome told the inquest this had been necessitated by space constraints in the family home.
During cross-examination by Senior Assistant Director of Public Prosecutions Peter Mailanyi, the widow admitted that the divorce had not been resolved and was still pending in court when the governor died in an accident on the Kenol-Thika dual carriageway.
"The house we have been living in was small and badly in need of repairs. It was not the right environment to bring up children," she responded while justifying her moving out.
The widow told the court she left her matrimonial home in Opul Court in 2008, leaving her husband and three children behind, and rented a house at Belmote Court in Nairobi's Westlands.
The Jubilee Party governor died just three months into office after he was badly injured by a guardrail that pierced through his official Mercedes Benz on November 7, 2017. He died at the Thika Level Five Hospital, where he had been taken after being freed from the mangled wreck of the car.
Like any other couple, the widow said, their marriage had its differences and it was against this background that her husband had filed for divorce.
She said the family would later move to their present residence in Runda in 2011, together with their three sons, adding that Gakuru would occasionally pay them a visit.
"He would come and go to our home in Runda depending on his work schedule. We lived like husband and wife despite the divorce petition in court," said the widow, who is a human resources practitioner in the civil service.
Inciting sons
However, it transpired that in the divorce petition, Gakuru had claimed that his wife was inciting their sons against him. Gakuru's widow additionally told the court that at some point, her husband sought orders to have her live as far away as possible from him for his peace of mind.
Chief Government Pathologist Johansen Odour, in his testimony, said the late governor would have survived had he not been trapped in the wreckage of his vehicle for long. He said the postmortem report showed Gakuru died of severe bleeding and injuries to his lower back occasioned by a motor vehicle accident.
The inquest continues on October 28.