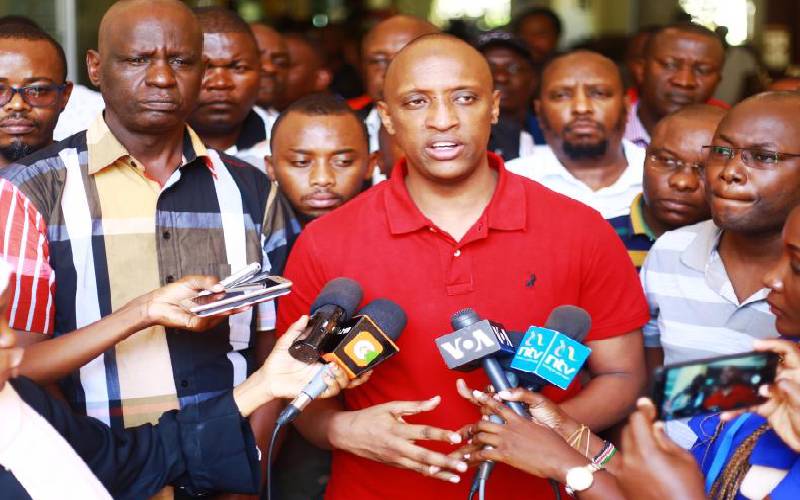 Nairobi County Majority Leader Abdi Guyo has dismissed any possibility of a power vacuum following ongoing corruption investigations on Governor Mike Sonko. Hassan who spoke in his office on Tuesday said Sonko has not been charged yet so no one should anticipate that the county will be without a governor. This is considering that Nairobi does not have a deputy governor to step in incase Sonko is charged. The county assembly speaker, who is constitutionally third in command is also serving in an acting capacity as his predecessor Beatrice Elachi was ousted after a fallout with MCAs.
SEE ALSO: Jubilee summons Nairobi MCAs to discuss speaker vote
The Employment and Labour Relations Court, however, quashed the assembly's decision and maintained that Elachi is still the speaker, but she is yet to resume duties. "If anyone thinks the governor's seat will be vacant, then they must be reading a different Constitution. There is no crisis in Nairobi, even in the event that Sonko is charged, which is highly unlikely," said Guyo. Governor Sonko is being investigated by the Ethics and Anti-Corruption Commission (EACC) over bribery claims. Sonko is alleged to have received Sh20 million from one of the firms awarded tenders by the county. In his defence, Sonko reportedly told the investigators that the money wired to his account was strictly business and had nothing to do with county activities.
SEE ALSO: We must take a stand to end divisive politics
The Matopeni ward rep cited Article 182 of the Constitution which stipulates that the office of a governor shall become vacant if he dies, resigns in writing, ceases to be a member of that county under Article 180 (2), is convicted of a punishable offence by imprisonment of 12 months or impeached. "None of the cited reasons has happened to Sonko," said Hassan. Guyo dismissed a recent High Court ruling which stated that once a state officer is charged in court, then they should step aside, a scenario which played out with Kiambu Governor Ferdinand Waititu and had his deputy James Nyoro take charge. He said the High Court erred in its ruling saying President Uhuru Kenyatta and his deputy William Ruto were allowed to contest in 2013 despite having a case against them at the International Criminal Court. "Being charged in court does not mean someone is guilty. The court cannot purport to ask the governor to step aside. Let EACC do its job without interference," said Guyo.
SEE ALSO: ODM cancels summonses to 12 MCAs