Millie: Sonko to blame for Ken Okoth botched Homa Bay funeral service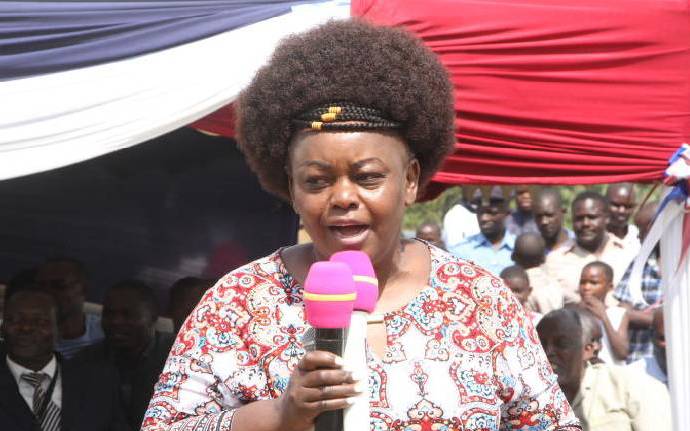 Suba North MP Millie Odhiambo has accused Nairobi Governor Mike Sonko of scuttling plans to have the body of the late Kibra MP Ken Okoth taken to Kabondo, Homa Bay County.
In a lengthy statement posted on her social media page, the MP has launched a scathing attack on the Nairobi governor accusing him of using Okoth's memorial service to earn cheap publicity.
She said Sonko's antics and 'loose mouth' could have contributed to the decision not to take the body to Homa Bay for the much-publicised funeral service.
"Your unnecessary drama spiralled a behind-the-scenes series of events that resulted in Okoth's body not being taken to Kabondo," she said.
The war of words ensued Sunday morning after Governor Sonko earlier criticised the MP and Jubilee Nominated Senator Isaac Mwaura for saying he was wrong to have meddled in the Kibra MP's personal affairs during the memorial service in Nairobi.
Sonko described the Suba North MP and Mwaura as people with weird marital lives that lack the moral authority to lecture anyone on matters marriage.
On Thursday last week during the memorial service of Mr Okoth at Moi Girls Secondary School, Governor Sonko alleged that he was aware of the romantic relationship between the legislator and nominated MCA, Anne Thumbi.
Sonko claimed that the late MP and Thumbi had five-year-old boy which the former was supporting hence they wanted the boy recognised as part of the family.
The remarks came against the backdrop a court order obtained by the nominated MCA stopping the cremation or burial of the MP until his son was Jayden Baraka Okoth was recognised and included in the burial programme.
It is after Sonko's outburst and the ensuing court battle that lit the war of words between the two politicians.
War of words
In his earlier post today, Governor Sonko accused the Suba North MP of hypocrisy, that her actions supported the actions of absentee fathers.
After slamming the legislators, the governor went ahead to dish two contacts urging young women who are having children with 'deadbeat politicians' to report to him, so that he can take up their cases.
He said: "In fact, from today all the great women of this country ukijua kuna Mp, Senator, Governor, civil servant, businessman amekuweka ball na akakuruka (who made you pregnant and disappeared) send your details to 0722886600/0739555555 tumuanike na tuforce (we expose him by force) for DNA when he's still alive."
It only took four hours and the controversial Amilo Gesa Gesa hit back on the flamboyant Nairobi county chief. She told the governor that seeking justice for the child in funeral was mistake.
"I do not just yap at funerals. I pass laws that protect all children including children who are like Ken Okoth's son. Go to the Hansard. You will find that I, Wakili Millie Odhiambo, pushed for Article 53 of the Constitution that protects Ken Okoth's son. Once the DNA confirms that he is Ken Okoth's son, he will be entitled under the succession law, to inherit from Ken's estate. He is protected. He is covered," she said.
She then told the governor that she was willing to assist him to nail the deadbeat politicians but through legal means.
"I have no legal, religious or cultural duty to declare someone a wife. While looking for women who have children with politicians, look for those politicians and other men and ask them to declare all their living and dead wives in all shapes and forms. I can only help by bringing a law once you are done with statistics," said Odhiambo.
On Saturday, Okoth's body was cremated at Kariokor Crematorium in the morning hours in a private function which was only attended with closest of family members.
Back at Kabondo village, the residents were left reeling with shock as the body they expected to arrive at Got Rateng Primary School for a final funeral service did not come with only news reaching them that the same body had been cremated.