Stiff Sh15m bail for key suspects in dams case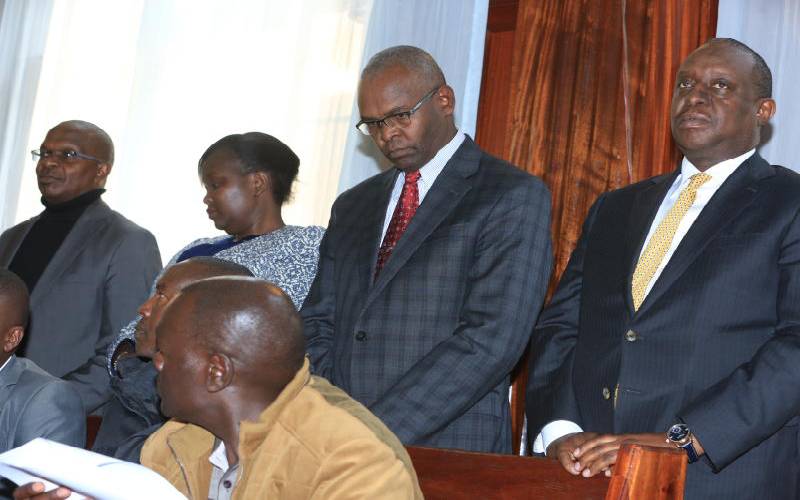 Henry Rotich's job as Treasury Cabinet Secretary hangs in the balance after the anti-corruption court slapped him with tough bail conditions yesterday.
In addition to depositing Sh15 million cash bail to secure his release after being charged with conspiracy to defraud the Government of Sh63 billion, Chief Magistrate Douglas Ogoti ordered that Rotich must not go near his offices unless accompanied by an investigating officer.
Mr Ogoti's decision signalled a steep fall for Rotich, Treasury Principal Secretary (PS) Kamau Thugge, East Africa Community PS Susan Jemutai Koech and Chief Economist Kennedy Nyakundi, who the prosecution claim are the masterminds of a dams' scandal that led to the loss of Sh19.7 billion.
Their predicament is made worse by the Anti-Corruption and Economic Crimes Act, which stipulates that any public officer charged with corruption stands suspended from office until the case is concluded.
"The accused must also deposit their passports and all travelling documents in court. They should not contact any of the prosecution witnesses or tamper with the evidence as any breach of the bail terms will lead to automatic cancellation of the cash bail," ruled Ogoti.
Yesterday Thugge, Rotich, Koech and National Environment Management Authority (Nema) MD Geoffrey Wahungu were each released after paying their cash bails.
The restrictions put Rotich's tenure in jeopardy given the sensitive nature of his work in controlling the country's purse strings. Together with Thugge, they sign off on payments and disbursements, as well as overseeing the budget-making process.
Rotich is also a link with donors and lenders who, invariably, demand the strictest fidelity in public resource management. And although he is presumed innocent until proven guilty, the serious corruption charges are sure to undermine the confidence the National Treasury boss is expected to inspire.
In his ruling, Ogoti noted that corruption was destroying the economy. He said it was time Parliament reviewed policies on bond and bail to allow courts to impose more stringent terms.
Rotich, Thugge, Jemutai and Nyakundi were among 21 suspects charged with conspiracy to defraud Sh63 billion in the construction of the Arror and Kimwarer dams.
Their day was marked with painful humiliation as members of the public jammed the court, curious to see the faces of those tasked with managing public funds, now accused of masterminding the loss of Sh19.7 billion for a project that has not commenced four years after a contract was signed.
It was a dramatic change in fortunes for Rotich, who just a few weeks ago was the focus of the country as he delivered the 2019/20 Budget.
The suspects sat pensively in the dock for close to four hours as 32 charges were read to them in turn after Director of Public Prosecutions Noordin Haji separated the charges into four different files.
The first file indicated that Rotich, Thugge, Koech, Nyakundi, Kerio Valley Development Authority (KVDA) former boss David Kimosop, Jackson Kinyanjui and Titus Murithii allegedly conspired with directors of Italian company CMC Di Ravenna to defraud public funds in the construction of Kimwarer Dam.
"Between December 17, 2014 and September 27, 2018 jointly conspired to engage in a scheme to defraud the Government $244,422,163 (Sh25 billion) in respect of Kimwarer multi-purpose dam by entering into a commercial loan while disguising it as a government-to-government loan," read the charges.
According to prosecution, Rotich and Thugge lied that the loan was guaranteed by the Italian Government, yet they knew it was a concessional agreement where the Italian company was to be borrower and financier, and not the Kenyan Government.
Abuse of office
In addition, Rotich and Thugge were accused of abusing their offices by using their positions of authority to confer a benefit to the Italian firm without due process. "Being the Treasury CS and PS, you abused your powers to improperly confer a benefit of Sh11 billion to an Italian insurance company without following the law of public finance management," read the charge sheet.
Similar charges were brought against the accused in the second file where it was alleged that they conspired to defraud the Government $277,407,605 (Sh28 billion) in the construction of Arror multi-purpose dam.
According to prosecution, led by DPP-hired lawyer Ali Taib, Alexander Muteti and Victor Owiti, the corruption syndicate involving the two dams involved three key State agencies in a bid to conceal traces of looting public funds.
The charges disclosed that Treasury, KVDA and Nema were involved in the chain of activities, which the prosecutors described as a well-choreographed syndicate to steal from Government.
In the chain of events, the Treasury officials were said to have initiated the contract negotiations with the Italian firm. The KVDA tender committee gave its approval, while Nema irregularly issued an environmental assessment and approval despite knowing the project was not viable.
That was how Wahungu and two Nema officials, David Ongare and Boniface Lengisho, got on the list of those who conspired to defraud the State.
The three were, however, released on a lower cash bail of Sh750,000 each on grounds that they were not directly involved in the looting of public funds.
Kimosop and KVDA officials William Kipkemboi, Paul Serem, Francis Chepkonga, David Onyango, Patrick Kiptoo, Elizabeth Kebenei, Esther Jepchirchir, Moses Kipchumba, Neelson Korir, Isaac Kiiru, Patrick Kipsang, Fredrick Towett, Jotham Ruto and Charity Muui did not get it easy.
The former MD was released on a cash bail of Sh12 million while the other officials were ordered to deposit Sh2 million to secure their freedom.