CS Rotich, PS Thugge released on hefty cash bail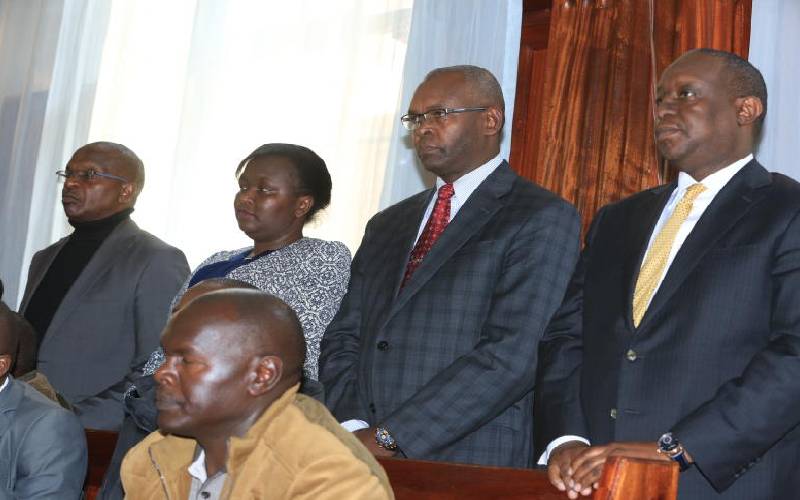 National Treasury CS Henry Rotich and his docket Permanent Secretary Kamau Thugge have been released on Sh50 million bail and a surety of a similar amount or Sh15 million cash bail after being arraigned at Milimani Law Courts over multi-billion Arror and Kimwarer dams scandal.
Appearing before Chief Magistrate Douglas Ogoti, the defence team lawyer Kioko Kilukumi requested the court to release the suspects on bail on reasonable terms under the law. He said that suspects were entitled to bail unless there are compelling reasons to deny them.
On CS Rotich, Mr Kilukumi argued he had co-operated with the law enforcers and had met the requirements of a suspect being investigated.
Also released was PS Susan Koech who was granted Sh6 million bail with an option of Sh30 million bond.
Tender committee members for the dams projects and Nema director general Geoffrey Wakhungu were released on Sh750,000 bail.
The lead prosecutor Taib Ali Taib did not raise any objection to suspects' request to be released on bail. He only requested that they surrender their travel documents and that they should keep away from their offices not to tamper with the evidence.
Defence lawyer Kipchumba Murkomen questioned prosecution's charges arguing that they may be targeting innocent people from the KVDA.
"Most of the Kerio Valley Development Authority staff are very junior employees. Please don't generalise their situation, some of them are really junior staff," said Murkomen.
The DPP Noordin Haji named 26 suspects and two companies in the case but only 21 of them turned up to take plea. This prompted the prosecution to request the court to direct them to report to the DCI headquarters tomorrow for questioning.
"We want them appear voluntarily before DCI tomorrow and warrant of arrest be issued for those who fail to appear," said prosecutor Alexander Muteti.
He further told the court that his team would like to know if Paolo Paorcielli of CMC di Ravenna, who and his co-accused are not in the country, are prepared to appear before the DCI within timeline set. He said that should they fail; an international warrant of arrest should be issued against them.
Also, prosecutor Muteti requested that they be allowed to return to court on Friday for plea taking for those who would have presented themselves to the DCI tomorrow, a wish which was granted by the magistrate.
Lawyer Katwa Kigen, appearing for former Kerio Valley Development Authority Director David Kimosop requested the court allow him more time to present his client for plea taking because he had travelled outside the country.
"David Kisosop travelled to Congo and he was supposed to have landed on Saturday. I requested him to come earlier and he said that by Thursday he shall have landed. I am requesting to present him on Friday for the plea," said Kigen.
Mr Kigen also requested the court grant his other client Fredrick Towett more time because he was sick and could not make it for plea taking.
"Mr Towett is unwell and struggling with diabetes and high blood pressure. He is on bed rest and I have consulted with a doctor if he can appear on Friday."
The defence team through Mr Kigen requested that only those who did not appear in court on Tuesday for plea taking to appear on Friday, for the second plea.
The prosecutors did not object to the requests of the defence team.
"We have no objection for Mr Kimosop being given time to come Thursday. Similarly, we have no objection for Mr Towett being given time to present himself for DCI. We also have no objection for accused persons who have taken plea being allowed to so on Thursday. The DPP is reasonable," said lawyer Taib Ali Taib.
He however emphasised by requesting that those who shall not have presented themselves to the DCI to do so tomorrow be issued with a warrant of arrest.
Mr Taib also requested Chief Magistrate Douglas Ogoti to suspend his timetable because of the uncertainty surrounding court attendance of those yet to take pleas.
He said: "We are fixing another date for plea taking and we are not sure of who will attend and who will not. I have consulted with defence and they are in agreement. We should fix those dates when we appear for the second round of plea taking."
The officials are facing 24 charges among them abuse of office, conspiracy to defraud and engaging in a project without planning.
The prosecution team is led by Taib Ali Taib and assisted by Alexander Muteti, Victor Owiti and Emily Kamau.
The defence team comprises Katwa Kigen, Kioko Kilukumi, Philip Nyachoti, Kipchumba Murkomen, Anami Mugo, Stephen Kimathi, Mahat Samane and Jinaro Kibet.
The officials had spent most of the morning in the cold cells of Milimani Law Court as they awaited to be arraigned over the multibillion-shilling Kimwarer and Arror dams scandal.
The two were among the 28 officials who spent a night in police custody following yesterday's arrest. They include KVDA acting MD Francis Kipkech and other senior officers named in the dams scandal.
DPP Noordin Haji ordered their arrest following a nine-month probe into the stalled Sh65 billion dams that were to be constructed in Elgeyo Marakwet.
The multi-billion-shilling scandal involves the construction of two dams.
Rotich first recorded a statement with the DCI over the stalled Sh65 billion dam projects in the country in February.
On March 6, the CS was again grilled for a day as investigations into the dam projects intensified.
He appeared before detectives at the DCI headquarters to explain what he knew about the controversy-ridden Arror and Kimwarer dam projects.
On Monday, Mr Rotich and Mr Thugge were arrested and questioned at the DCI over a scandal in which the DPP said parted Sh19 billions of taxpayers' money.
In the Monday press briefing, DPP Haji said "if the projects were carried out in adherence to the law and existing policies for safeguarding the public interest, then it should not have cost Sh63 billion. We have evidence to prove Sh19,714,366,991 was lost through a well-choreographed scheme to defraud public funds."