Man lays claim to Saitoti's son, seeks DNA test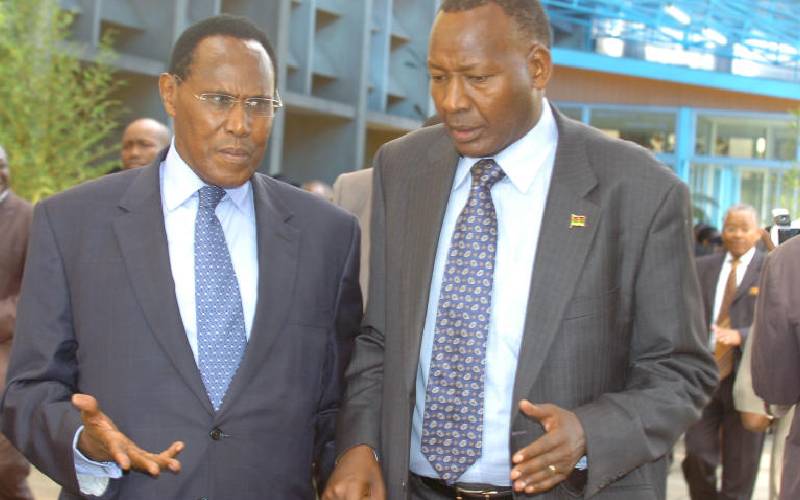 A man claiming to be the biological father of late Cabinet Minister George Saitoti's son has reopened the battle to ascertain the child's parentage.
Sebastian Maina Ngunju, through a suit filed at the High Court in Nairobi, wants a DNA test carried between him, Saitoti's widow Margaret Wanjiku and Zachary Musengi Saitoti, who he claims is his biological son stolen at his Subukia home, Nakuru, in August 1988.
Mr Ngunju said in court papers that he was determined to settle the matter of his lost son, which he blames for the death of his wife Elizabeth Njeri Maina due to depression. "I have gone through untold suffering and agony to find my lost son. I am suffering from mental trauma and emotional distress to reunite with my son. It is only an order for DNA test that will make me settle and settle the issue of the boy's parentage," said Ngunju.
Ngunju, a primary school teacher, narrated the struggles he had apparently gone through trying to get close to Musengi, including attempting to get employed as a mason at Saitoti's home.
He said he also reached out to John Cardinal Njue of the Catholic Church to mediate in the dispute, but the talks failed.
He claimed his numerous complaints to the police to investigate his son's disappearance had also hit a snag.
"In order to lay the matter to rest with finality, there should be a DNA test to ascertain paternity. Ngunju has undergone a lot of injustices and it is only the court that can help him know the truth about his abducted son," said his lawyer Victor Wesonga.
This is the third time Ngunju is battling the Saitoti family for the custody of Mr Musengi. He first filed an application in 2012 seeking to institute private prosecution against the widow, but the case was stopped by the High Court.
Mrs Saitoti and Ngunju's family then signed a consent stopping him from claiming Musengi, but he challenged the consent, saying he did not authorise it. The Court of Appeal dismissed his claim and reaffirmed the consent order.
Ngunju stated that his son was named Stephen Wachira at birth on September 21, 1985, but he was stolen near their home on August 31, 1988.
"I reported his disappearance, but the officer who was investigating the matter died in a mysterious accident. I was later informed by a senior police officer that my son was a senior person in the Government and urged me not to pursue the matter," said Ngunju.
He said it was until July 2012, during the burial of Saitoti, that he saw Musengi and recognised him as his lost son.
Similar looks
According to Ngunju, Musengi bore similar looks and traits with his other children.
After he saw the photos of Musengi, he made fresh complaints to the Director of Criminal Investigations, but he claimed the investigation was bungled.
"My claim for paternity is sound and justified since I have learnt from private investigators that Musengi is my son who was abducted and his name changed from Stephen Wachira," he said.
Ngunju wants the court to declare him as the biological father of Musengi and he be given the custody.
He wants to be given unlimited access to Musengi and compensated for the years he was separated from him.