Wajir West MP Rashid Kassim in trouble for assaulting Fatuma Gedi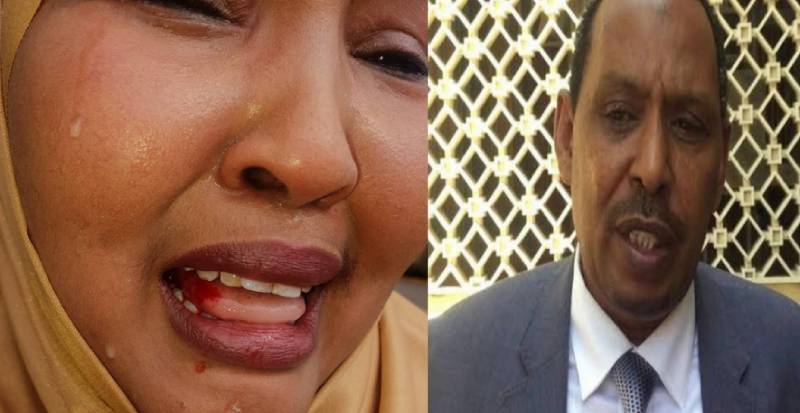 Wajir East MP Rashid Kassim was Thursday arrested for allegedly assaulting Wajir Woman Representative Fatuma Gedi within Parliament.
Witnesses said the MP rained blows on Gedi who sits in the House Budget and Appropriations committee for allegedly failing to push for money for his constituency.
The incident happened at the Parliament parking lot as the woman representative was walking to Protection House in the company of her Homa Bay county counterpart, Gladys Wanga.
Speaker of the National Assembly, Justin Muturi in a communication from the Chair asked the police to expedite investigation into the incident.
"The matter has been reported at Parliament police station. I have given strict instructions that criminals cannot be harboured in Parliament. A crime is a crime. I have directed that the police may go to whatever extent to investigate and if necessary, arrest, and charge before court whoever is found to be culpable," said the Speaker.
"This is not a matter of privilege. Parliament cannot be a sanctuary for criminals. Even if you disagree, it cannot be a reason or excuse to engage in criminal activities. These are my directions to the police they must deal with the matter firmly, because nobody is above the law," said Mr. Muturi, who had a difficult time controlling women MPs who sang and chanted in the chamber calling for action against their offending colleague.
The women MPs temporarily disrupted House business, as they blocked the entrance to the chamber, forcing the Speaker to seek the help of the Sergeant-at-arms to escort out the lawmakers.
"We now fear for our safety in Parliament," said Lamu women representative Ruweida Obbo who stood up to alert the House of the matter as her fellow women MPs sang songs condemning their offending colleague.
'Shame! Shame!' they shouted before they were thrown of the House.
The temporary chaos happened in full view of guest who had been invited to witness the Budget reading speech.
"Today is a very sad day not only for women parliamentarians but for all women in this country. As we walked from Parliament to Protection House, we ran into Kassim who then engaged in a conversation with Gedi. I did not hear what they were discussing, but before long, I heard him utter the word 'stupid' before descending on my colleague with blows," said Mrs Wanga
"I feel disappointed that we do not feel safe as women. I want to ask the leadership of this country that if he is not arrested, then we should be provided with pepper sprays and guns to defend ourselves," said Kirinyaga Woman representative, Purity Ngirichi.
In 2016, then Laikipia North MP, Mathew Lempurkel was arrested for assaulting Nominated MP Sarah Lekorere.
"Justice delayed is justice denied. If the culprit is not arrested and justice done, we will know that women have no justice ein this country," said Mrs Korere, the current Laikipia north lawmaker.
The speaker has made a good ruling. The MP is not above the law. It is a big shame. We want investigations expedited," said Cecily Mbarire (nominated).
"Mr. Kassim has ashamed the Muslim community," said Mishi Mboko (Likoni).