Rtd Col Cyrus Oguna debuts as Government Spokesman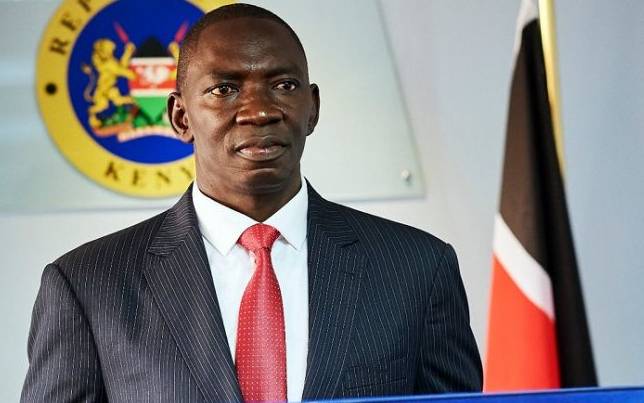 Retired Colonel Cyrus Oguna has today made his first press briefing as the new Government Spokesman since taking over from Eric Kiraithe.
Oguna in the Thursday morning presser in Nairobi said he ought to be addressed as a 'retired colonel' in respect to the titles adhered to by the servicemen.
"I am really delighted to serve the country in this position that I have been offered by the government of Kenya…. I should point that I am now retired from the military, meaning as you refer to me, you need to refer to me as Colonel Retired Cyrus Oguna the Government Spokesperson," he said.
He spoke vastly about Kenya's growth in the digital sector, pointing to a trip in which President Uhuru Kenyatta travelled to Rwanda to launch a digital project.
The ongoing Huduma Namba registration was also part of his speech, saying the Government was committed to use the listing to revamp service delivery.
While acknowledging that he is trying to renew friendship with the media, after interacting with them during his stint as Kenya Defence Force Spokesman; Retired Colonel Oguna asked journalists to stick to accuracy.
He was appointed to the position by the Cabinet Secretary for ICT Joe Mucheru on May 7, 2019, to take over from Mr Eric Eric Kiraithe.
Kiraithe has since been moved to the Ministry of ICT as the Principal Administrative Secretary.
Speaking during the event, Kiraithe lauded his successor as a competent man with whom he has worked in the past.