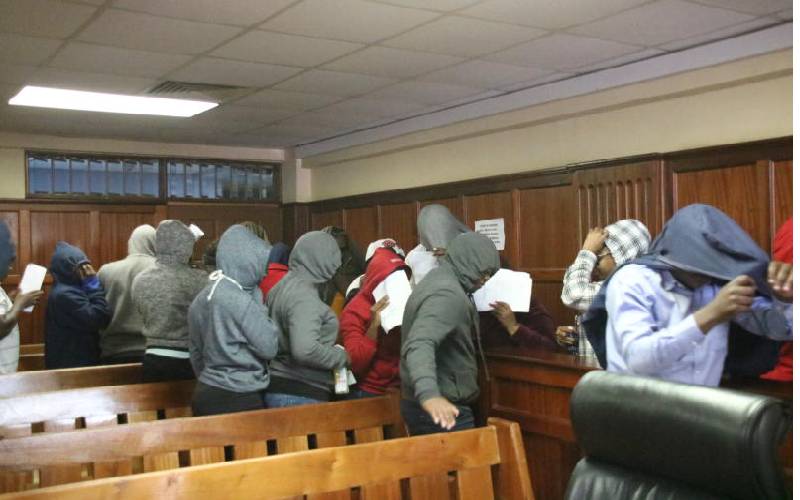 It is a tradition in the country that when a suspect or suspects appear in court for the initial trial, they always cover their faces with all manner of materials ranging from lessos, sweaters to coats. But this week the tradition was taken a notch higher after suspects in the Kenya Revenue Authority (KRA) tax evasion case arrived in court cladded in grey hoodies and sunglasses. The suspects' 'uniform' took Kenyans by surprise with a majority taking to various social media platforms to discuss the latest swag in court. Most Kenyans wanted to know if the suspects opted for a uniform, grey hoodies or it was coincidence.
SEE ALSO: Three agents charged with wrong declaration of goods out on bond
"This thing should be stopped, it doesn't make sense for people accused to have stolen our taxes to come to court in swag," said Edwin Babu on his Facebook post. Reacting on the same matter on Facebook, Emanuel Okuna termed the action uncalled for and urged the courts to take stern action against the culprits. "It is your choice to hide or not to hide your face when you appear in court, but this idea of coming with uniform is a no for me. We are talking about Kenyans' taxers here," said Okuna. Mark Juma, another Facebook user condemned the act saying "This is what happens when slayqueens and slaykings are lhired to run an important organisation like KRA." "They don't feel anything they came to court to slay in their new hoodies. When hiring for KRA, one must look at the qualifications and merit to hire serious people tp look at Kenyans taxes," angry Juma added.
SEE ALSO: Port business rebounds after end of restrictions
But speaking to Standard Digital on phone, lawyer Riziki Emukule said there was nothing wrong with suspects hiding their faces in court and that they had a right to protect themselves. The lawyer however said there was no express law allowing or stopping suspects from hiding their faces in court. She added that sometimes exposing suspects at the initial stage could interfere with the case and that informs the action in most cases. " At the point of plea taking and even throughout the trial, the accused persons are presumed innocent until proven guilty. Also hand in hand is their right to privacy which is not extinguished by their arrest and subsequent trial," Emukule said. The
40 KRA officials have been detained for 21 days to enable detectives conclude investigations
SEE ALSO: KRA's misses its target by a record margin Sh350 billion
Some claimed the hoodies were sold to the suspects before they appeared before the trial judge as a symbol of unity among them. "Sometimes shit can hit you and you need creativity to show solidarity with one another," said Renson Kiambi. The Anti-Terrorist Police Unit (ATPU) has faced the same problem when terror suspects appear in court covering their faces with veils and hijabs. Judges have however said it is not illegal for suspects to hide their faces while in court.