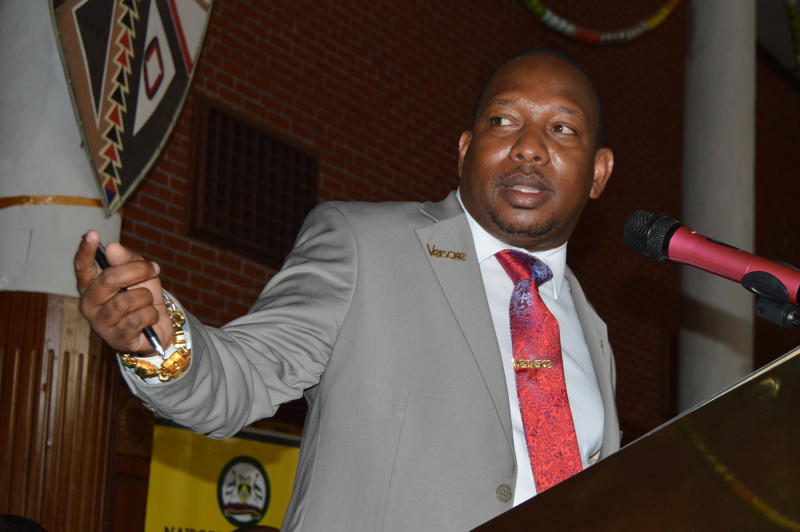 Senators branded Nairobi Governor Mike Sonko government a 'one-man show' affair after the county boss failed to honour their invitation yesterday.
The Senate Devolution Committee chaired by Senator John Kinyua (Laikipia) was forced to adjourn its sitting after the governor failed to turn up or even send apologies.
The lawmakers raised concern over how the county is run, noting that some posts for County Executive Committee members are vacant and that the county assembly lacks a substantive Speaker.
The senators, who were seated before 10am when the meeting was scheduled to start, gave up and called the meeting off after waiting for Sonko for over 30 minutes.
"We are going to send another invite to the governor to appear before the committee. If he fails to honour the invite, we will summon him," said Nairobi Senator Johnson Sakaja as he walked away.
Read More
The senators said Sonko was setting a 'dangerous' precedence by continuing to operate without people in this important positions.
Speedy intervention
"It means a governor can decide to frustrate the deputy to resign or reach a deal to vacate office and operate without one. At the same time, without a substantive Speaker, he/she cannot be impeached by the Members of the County Assembly," said Sakaja.
The senator raised the matter in the Senate through a personal statement and called for speedy intervention.
He said Nairobi is being run by a government that is not properly constituted as stipulated by law.
The senators want the governor to be called to order for running his administration without a deputy since Polycarp Igathe resigned 15 months ago. Mr Igathe resigned in January last year after he differed with Sonko.
They also criticised Sonko for working with only five CECs as opposed to the 10 envisaged by law.
The county assembly also has no substantive speaker after last year's impeachment of Beatrice Elachi.
Sakaja wants the governor to compelled to comply with the law and have his administration properly constituted.
He said the governor had blatantly ignored and undermined the role of the deputy governor, undermining the delivery of services.
Sonko has on several occasions sacked members of his executive committee while some have resigned.
Majority Leader Kipchumba Murkomen said it would be disastrous if the other 46 governors emulated 'bad example'.