Raila: My deal with Uhuru on track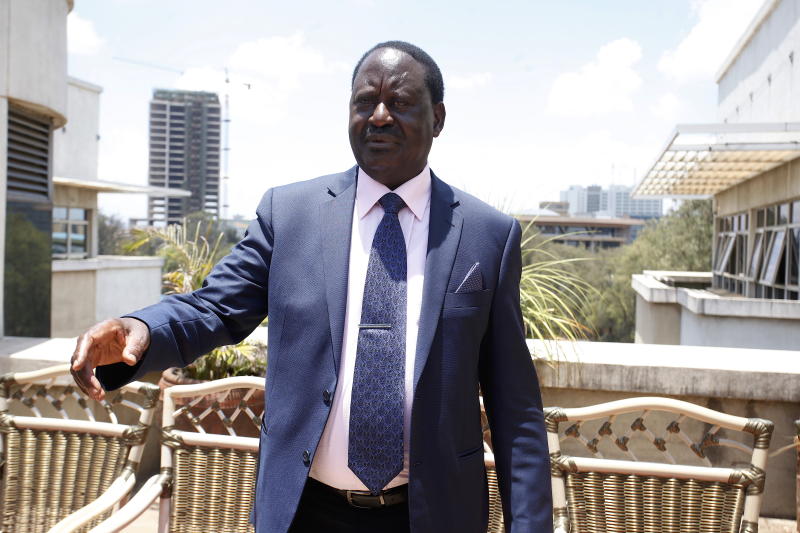 Opposition leader refutes claims the handshake has brought problems within Jubilee Party
Orange party leader says building bridges team is expected to finish work in April and submit its report by May.
Opposition chief Raila Odinga is confident with the progress of the nine-point agenda as agreed between him and President Uhuru Kenyatta, culminating in the famous handshake.
One day short of a year after the surprise March 9, 2018 handshake, Raila is convinced his coming together with the President following the divisive August 8, 2017 presidential polls, is bearing fruits.
Speaking during a morning interview at a local FM station yesterday, the former prime minister commended the renewed energy in the fight against corruption, which, he said, had reached a toxic state. Raila supported Uhuru's commitment to the course "irrespective of who is caught up in the process".
On 2022 politics, the ODM leader was categorical that the subject was not part of his deliberations with the Jubilee Party leader, saying they were keen on electoral justice.
"The emerging divisive politics since 2007/2008 polls that saw many people die was recurring. There was too much grudge and people did not want to see eye-to-eye. The two of us agreed that there was need to come together and calm the tension," said Raila.
He added: The tension in the country was the reason we met for over 10 hours, talking about the issues at hand, before we put pen to paper. It was not a one-day event. We agreed to bury our differences and give an opportunity for the wounds to heal," said Raila when he was interviewed at Kameme FM.
Take a quick survey and help us improve our website!
Take a survey
He said they decided to put aside their differences with Uhuru for the sake of the country.
"If we didn't do something, this could have been worse than 2007. That's the reason for the handshake, to cool tempers by bringing people together. We agreed to bury our differences and resolved that if we speak differently, it will not solve the issues."
He disclosed that after Jubilee and National Super Alliance took hard-line stances that saw him sworn in as the "people's president", there was an urgent need to rethink.
"Counsels of goodwill saw reason and facilitated the dialogue between us. We came together to talk without anyone else being part of the meeting. We took a journey down memory lane and realised we were where the colonialist, who called us bloody Afrikaans, had put us," he recounted.
Raila revealed that the Building Bridges Initiative could not start work immediately because of financial constraints, but had now covered 20 counties, adding that it was expected to finish hearing in April and submit its report by May.
"We will decide on the way forward and undertake a national dialogue for issues that require legislative and constitution changes," he said, admitting that bringing change was not easy.
He added: "There must be resistance. The noise we hear is like someone with a wound; when you prick and use hot water, it pains. After all, these wrangles will end and there will be stability."
He refuted claims that the handshake had brought problems within Jubilee and were aimed at dislodging Deputy President William Ruto from succeeding Uhuru.
"He has a right to speak his mind. I'm not in Jubilee but ODM. I have not entered Jubilee and not attended any conference. I don't attend Cabinet meetings. ODM, just like Jubilee, Wiper and ANC, have their own problems," said Raila in response to claims that he was rocking the Jubilee boat.
He argued that the handshake had not killed Opposition's role for checks and balances in Government, but regretted that the level of corruption was choking and a hindrance to development. "Corruption is self-consuming. No development can thrive. We have to construct dams, nothing has started yet payment has been effected," he said.
He took a swipe at the electoral agency over lack of prudent use of funds, saying 2017's was the most expensive General Election the country had ever held.