Lawyers nabbed, judge and politician being sought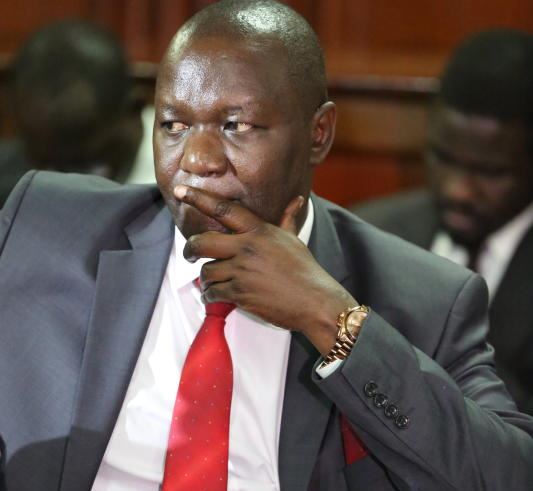 Senior Counsel Tom Ojienda and lawyer Peter Wanyama were yesterday arrested in an ongoing probe into troubled Mumias Sugar Company.
It is alleged more than Sh200 million was lost in suspected corrupt deals at the firm.
Ojienda was arrested yesterday afternoon outside Barclays Plaza in the city, while Wanyama was picked from Ngong town. They were held at DCI headquarters where fellow lawyers trooped in, seeking their release on bail pending their arraignment in court.
A politician and a High Court judge are also wanted over the issue. The judge is said to have handled Mumias issues when he was in private practice.
But the detectives handling the matter said they would seek the permission of the Judicial Service Commission (JSC) to handle the matter and later if possible hand him over for prosecution.
"We will seek to talk to the judge through JSC. The ultimate goal is prosecution, which will happen after all," a source said.
The officers drawn from the Special Crimes Prevention Unit and Flying Squad were searching for a politician still at large.
"We have been to his houses but he is not there. He was spotted in the city in the morning but it seems he got wind of this and went under," said another source.
The sources said the lawyers, politician and the judge will be questioned over a Sh200 million audit at the Mumias Sugar Company.
Director of Criminal Investigations George Kinoti could not be reached for comment, but sources said he was personally supervising the operation to arrest the suspects.
The sources said those arrested were likely to be locked up the entire weekend and presented in court on Monday.
Protracted court battle
The arrests were approved by Director of Public Prosecutions Noordin Haji, who last week received the investigation files on the matter.
A special team of investigators comprising officers from the DCI's legal department and the ODPP has been investigating suspected loss of Sh200 million from the sugar factory.
The arrest comes in the wake of a protracted court battle between Ojienda and the Kenya Revenue Authority (KRA) over tax compliance.
The taxman has filed an appeal after High Court judge Wilfrida Okwany directed that it issues a tax compliance certificate at a time when it is demanding Sh443.6 million in arrears from the advocate.
Ojienda had sued the KRA, arguing that denying him tax clearance was calculated to sabotage his race to be voted as the lawyers' representative at the JSC.