Ex-CS Wario denies six counts of abuse of office, released on Sh 1 million cash bail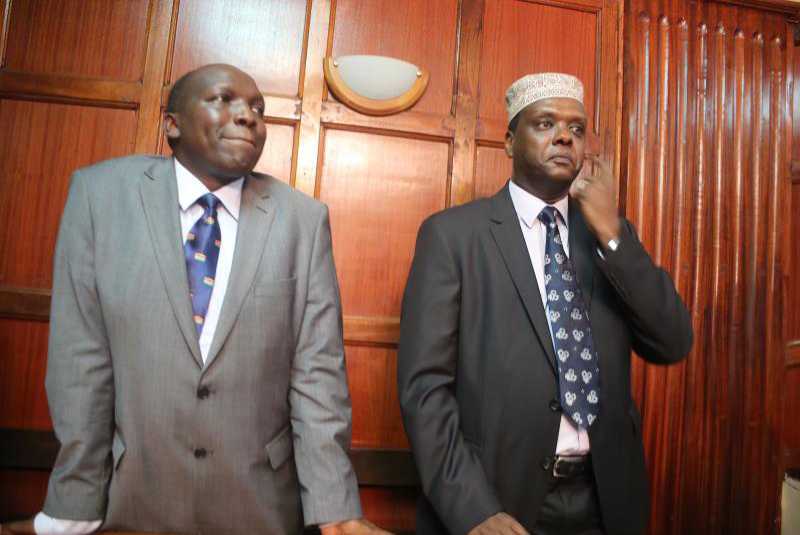 Kenya's ambassador to Austria and former Sports Cabinet Secretary Hassan Wario is staring at a possible end to his public life after he was charged over the Rio Olympics scandal.
Before a packed courtroom, Mr Wario and two others denied six counts of abuse of office and failure to comply with applicable procedures relating to management of public funds.
The ambassador and his co-accused, former director of administration Harun Komen and former finance officer in the Sports Ministry Patrick Kimathi Nkabu appeared before Anti-Corruption Chief Magistrate Douglas Ogoti.
Wario is accused of using his office to improperly confer Sh1.5 million to Adan Omar by including him in Kenya's delegation to the 2016 Rio Olympic Games in Brazil, leading to the loss of public funds.
And though released on Sh2 million bond or a cash bail of Sh1 million, he will have to convince the court to release his passport to allow him to travel.
The prosecution, through Deputy Director of Public Prosecutions Emily Kamau, opposed a request by Wario's lawyer Rodgers Kamau to have him given his passport so that he can travel for official duties.
"Any arrangement in respect to his duties has now been overtaken by events since he's been charged," said Ms Kamau.
A plea against former National Olympic Committee of Kenya (Nock) president and athletics legend Kipchoge Keino was deferred by seven days after the court heard that his file is with the office of the Directorate of Criminal Investigations.
Through his lawyer Cecil Miller, Keino wrote a letter to Director of Public Prosecutions (DPP) on October 17, seeking to have the matter reviewed saying that as chairperson of Nock he was not involved in the day-to-day running of the said organisation.
"Our client did not give any authorisation for the inclusion of the alleged persons in Kenya's delegation to the 2016 Rio Olympic Games as alleged," said Miller.
In response, the DPP said the letter discloses further areas and raises issues that were not contained in the investigation file when it was submitted for directions.
"In view of the above, I direct that Keino be given an opportunity to record a further statement in regard to all the matters raised and provide the supporting documentation," said DPP Noordin Haji.
He said pursuant to Section 4 of the ODPP Act 2 of 2013 and Section 5 of Prosecution Policy, the file should be resubmitted for further directions before a plea is taken.
Conferred benefits
Komen is accused that on July 19, 2016, he improperly conferred a benefit of Sh6.5 million in air tickets and allowances to unauthorised persons for the 2016 Rio Olympics.
Kimithi was charged in relation to misusing public funds amounting to Sh22.5 million during the games.
The charge sheets indicates that on March 30, 2016 and August 18, 2016 at the Sports ministry, Wario used his office to improperly confer a benefit of Sh1,506,391 to James Gitau Singh by including him in the games. The matter will be mentioned on November 16.