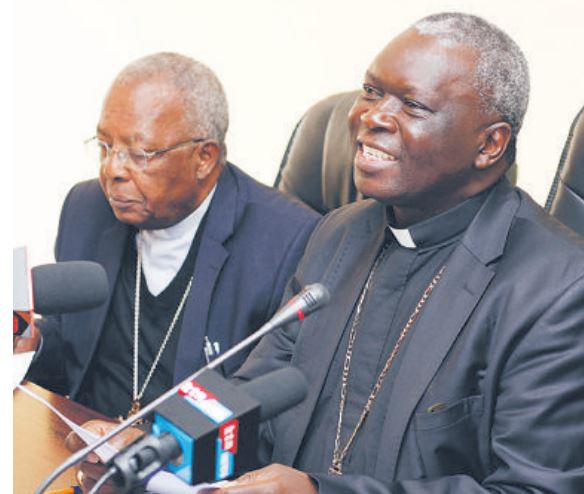 Catholic bishops have called for humane treatment of 'innocent' victims of ongoing demolitions even as they commended President Uhuru Kenyatta's new resolve to fight corruption.
The Kenya Conference of Catholic Bishops (KCCB) has thrown its weight in the ongoing purge against graft, calling for a 'soft' approach but in the same breath insisting that President Kenyatta should not weaken his resolve.
Speaking in Nairobi Friday, KCCB Chair Rt Rev Philip Anyolo said in the ongoing demolitions to repossess riparian reserves and government land, the state should ensure those being evicted, and whose buildings are being demolished, are not victims of corrupt individuals.
He said some victims could have innocently bought land from individuals who acquired the property illegally.
Their call comes as the government demolishes buildings built too close to rivers or road and railway reserves, leaving owners counting billions in losses and innocent tenants stranded.
Read More
Some owners of the demolished buildings say they lawfully purchased the controversial plots from government officials.
"While we appreciate the need to protect our environment and riparian land next to rivers, we have to ensure that those being evicted and whose buildings are being demolished are not victims of corrupt individuals who acquired land illegally and sold to unsuspecting victims," said Anyolo.
Innocent victims
He referenced on the Mau Forest saga where, he said, those evicted have to be vetted to ensure they are not victims of corrupt government officials and politicians who made promises while soliciting for votes.
Anyolo said Kenyans who "innocently" acquired land in Mau Forest need to be listened to and handled in a humane way. "Those who are found to be landless should be offered settlement elsewhere," said the bishop.
But in the same breath, he said the government should not spare those found engaging in corrupt vice "beginning with those in top position to the lowest in all sectors".
This, he said, should be done in a strategic manner so as to address systematic corruption. "We ought to fight it at all levels from the ordinary mwananchi, security agents and to the highest level of leadership," said the KCCB chair.
"They should never give in to any attempt to weaken their resolve."
The bishops called for a radical change in the way jobs are distributed in the country, saying nepotism has denied Kenyans equal opportunities. The recent claims that MPs were bribed to shoot down the controversial sugar saga report, also featured in the bishops' statement which they described as a grave matter that put millions of Kenyans at risk.
"We demand a thorough probe into these bribery claims. Those found to have accepted the bribe ought to resign and be prosecuted," said Anyolo.