Death toll in Gikomba fire tragedy rises to 16 as hospital appeals for blood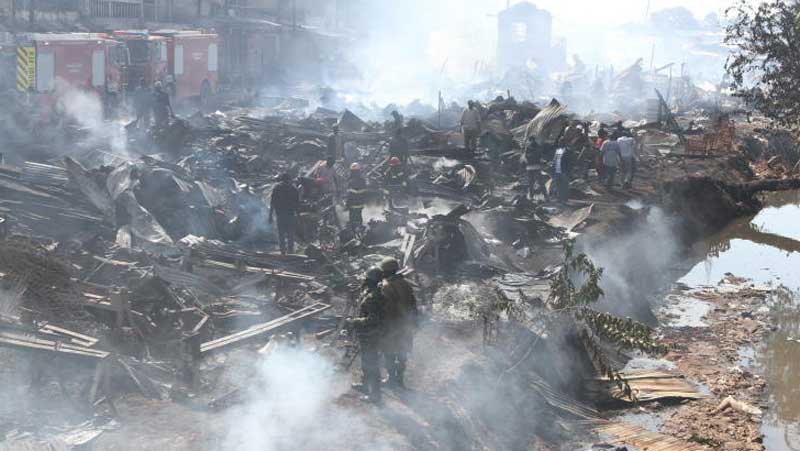 One more victim of the Gikomba fire died Friday morning, bringing the death toll to 16.
The victim, whose details were not immediately released, had been undergoing treatment at Kenyatta National Hospital's burns unit.
The government is appealing for blood and ventilators to assist the 47 patients rescued from Gikomba.
"I have moved around the wards where some of the people who were injured in the fire are still admitted. The hospital is managing the situation and the patients are getting well, though they need blood and ventilators," said Health Cabinet Secretary Sicily Kariuki.
The CS is appealing to members of the public to visit the hospital and donate blood.
A ventilator is a machine that assists patients with difficulty in breathing.
Kariuki said they had planned to reach out to private health facilities to assist patients with emergency cases but so far, KNH is managing the situation.
She said most of the patients admitted have NHIF cover and it will help pay for their treatment expenses. But for those who do not have cover, the CS said the government is exploring ways of helping them.
Acting KNH CEO Thomas Mutie said they received 74 patients yesterday after the fire broke out at Gikomba market.
"Unfortunately, four of the patients arrived when already dead," he said.
Of the patients they received on Friday, seven were seriously injured. He revealed the degree of burn was 36 per cent.
"Most of the injuries we got were as a result of inhaling hot smoke, and have been experiencing difficulty in breathing. That is the reason we are appealing for ventilators," he said.
The the hospital has discharged eight patients, he said.
"We continue to release the patients as they get well after receiving treatment," he said.
The admitted patients had suffered from hot smoke inhalation, shock and burns.
Meanwhile, Devolution Cabinet Secretary Mwangi Kiunjuri has said the government will help rebuild stalls at Gikomba market with permanent structures.
The CS said his office will coordinate with Nairobi Governor Mike Sonko to build permanent and fireproof structures to prevent future losses from fires.
"We will explore ways of ensuring that businesses are protected against such disasters, including reconstructing the market to make the structures permanent," the Kiunjuri said.
However, this is not the first time that the government is offering to build permanent structures in the largest open air market in East and Central Africa.
In 2015, Deputy President William Ruto said the g overnment would come up with a lasting solution to the problems of Gikomba fires.
Kiunjuri also said authorities were investigating the cause of the fire even as many of the affected traders claimed it was arson.
"Initial reports points to arson. Stern action will be taken against the culprits," he said.