'Big Five' suppliers have received millions from NYS since 2016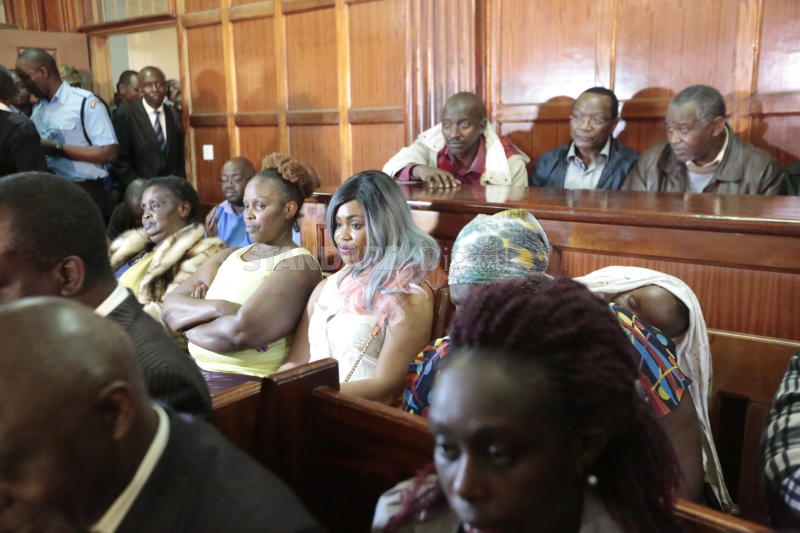 Five companies linked to the Sh9 billion National Youth Service (NYS) scandal previously received millions of shillings from the Government in flagged transactions.
The companies either received the payments through their bank accounts in Nairobi or the Kenya Commercial Bank, Gilgil branch according to transaction records at NYS and in the banks.
Lucy Wambui Ngirita, the mother of Ann Wambere Wanjiku Ngirita who received Sh59 million from NYS without delivering anything, received Sh5.4 million for supposedly supplying canned beans according to documents in Sunday Standard's possession.
Well before her daughter hit infamy for receiving the Sh59 million from NYS, Lucy was doing business with NYS and her company had received Sh22.2 million in one day in 2016.
According to records from the Ministry of Public Service, Youth and Gender Affairs, State Department For Public Service and Youth, Lucy's Ngiwaco Enterprises received Sh5,468,655 in her Kenya Commercial Bank, Gilgil branch account number 1125544910 on June 30, 2016 through IFMIS number 125165 for the supply of canned beans.
In one day, Ngiwaco Enterprises associated with the now infamous Ngirita family from Naivasha received a total of Sh 22,253,070 into their account at the Kenya Commercial Bank headquarters in Nairobi.
M/s Ngiwaco Enterprises first received Sh6,760,265 in their KCB account at KenCom headquarters on October 4, 2016. Later the same day, the company received Sh6,462,805 and another Sh9,030,000 in the same account.
Another company under probe, M/s Kalabash Food Supplies received Sh9 million in its Consolidated Bank Koinange Street branch account number 0130250420500 on October 4, 2016.
On the same day M/s Kalabash Food Supplies received another Sh9,999,864 in the same account.
The company's director Adrine Grace Nyambura is yet to present herself to the DCI.
M/s Jerrycathy Enterprises received Sh9,787680 in Kenya Commercial Bank Gilgil branch account number 1104186225.
M/s Ersatz Enterprises, associated with Catherine Mbare Njeri and Sara Muguru Mbare, received Sh11.6 million in Consolidated Bank Koinange Street branch account number 012005038800 on October 4, 2016. A deposit of Sh6,450,000 was initially made followed by a Sh5,160,000 on the same day.
The two Ersatz Enterprises directors are yet to present themselves to the DCI.
Another company under probe, Njewanga Enterprises, received Sh7,910,000 in KCB Gilgil branch account number 1109800584.
An analysis of bank transactions between 2013 and 2017 reveal that a total of Sh6.3 billion was transacted by the NYS to various accounts in 29 banks in the country including African Banking Corporation Sh545, 953,627, Bank of Africa Kenya Sh166,839,944, Bank of Baroda Sh3,235,750, Barclays Bank Sh445,812,525, Commercial Bank of Africa Sh5,970,500, Central Bank of Kenya Sh55,918,311, CFC Stanbic Bank Sh4,500,00, Chase Bank Sh152,457,256, Consolidated Bank Sh163,181,440, Co-operative Bank Sh392,320,982, Credit Bank Sh56,185,344, Diamond Trust Bank Sh 13,927241 and Eco Bank Sh 23,359,137.
Others are Equity Bank Limited Sh173,390,407, Family Bank Limited Sh1,518,396,794, First Community Bank Sh41,599,483, Giro Commercial Bank Sh42,446,000, Guarantee Trust Sh86,044,282, Gulf African Sh10,133,696, Housing Finance Sh4,059,500, I&M Bank Sh 88,896,208, Jamii Bank Sh342,399,765, Kenya Commercial Bank Sh416,276,700, National Bank of Kenya Sh145,172,619, NIC Bank Limited Sh323,415,100, Paramount Investment Bank Sh47,872,231, Sidian Bank Sh59,075,448, Standard Chartered Bank Sh73,885.088 and TransNational Bank Sh11,016,276.
To fight drought, involve communities
According to the latest information from the Meteorological Department, rainfall will be poorly distributed in April, May and June, and this will have a serious impact on agriculture