City taps to remain dry as authorities overwhelmed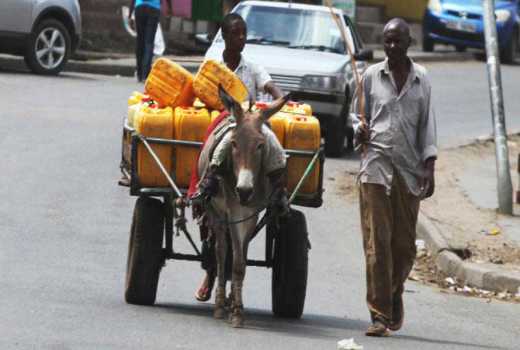 It would take up to 2020 for Nairobi residents to get near normal water supply.
That is the year the construction of the Northern Corridor water project is expected to be complete and inject an extra 176,000 cubic metres per day into the grid.
But there is a catch. There should be no population growth at all while those living around the Aberdare forest 198km away are merciful enough to stop logging. And plant trees.
Meanwhile, lack of planning for future population growth, toxic water politics and climate change will continue to conspire to keep Nairobi residents thirsty. The city is facing what could be its worst water rationing period. For 26 months now, residents have had to survive with reduced water supply amid spells of cholera outbreaks.
No news
The price of a 20 litre jerrican of water from vendors in some areas like Buruburu is currently Sh100, just seven shillings lower than the price of a litre of petrol. At Shauri Moyo, residents wake up at 4am to queue for water at the nearby Burma market.
At Roysambu, Highrise and part of Langata estate, taps have been dry for weeks now. The coin has been flipped and it is no longer news when there is no water but rather when taps are flowing.
"People blame us for the shortage, but this problem is beyond us. The fact is we have not had adequate rainfall for the last two years and that is the way it is," Nairobi City Water and Sewerage Company acting Managing Director Nahashon Muguna says.
So dire is the situation that the expected rains next month will do little to quench Nairobi's thirst due to lack of adequate water treatment capacity, the Saturday Standard can report. There has been a build-up of clouds over the central Kenya region in the last few days and the weatherman sees this as is a sign the rains are not far away.
A comprehensive forecast for the March to May long rains is set to be released on Monday.
"For the next seven days mainly hot and dry conditions are expected to continue over most parts of the country. However, an improvement in cloud cover is expected over several areas," says Kenya Meteorological Department CEO Peter Ambeje.
On December 26, 2016 the Nairobi Water and Sewerage Company announced a 'temporary' reduction of the city's water supply by 16 per cent due to inadequate rainfall.
At that time, the level of Ndakaini dam in Murang'a which supplies 84 per cent of the capital's water had fallen to 48 per cent and the rationing was to last till April of that year.
It is now two years and two months later. The situation has gotten worse. Policy makers are struggling to navigate between dealing with the mountains of blame coming their way over the dry taps in the city as the temporary solutions have created very little effect.
A Sh200 million plan to sink 40 boreholes across the city as an emergency fix launched with fanfare in April last year, remains a mystery. Little has been heard of the project since outgoing Water Cabinet Secretary Eugene Wamalwa revved the engines of a borehole drilling machine outside Kaloleni dispensary as cameras clicked and rolled.
"Nairobi has been affected by drought and we have launched the boreholes as a short term measure to address water shortage. Nairobi is the engine of the country thus there must be enough water supply," he said at that time.
Nairobi Water says it has sunk 22 boreholes as part of the project but city residents say they are yet to see them.
"Service delivery situation in Nairobi appears to be deteriorating with each passing day and there is need for urgent and well thought-out approach to addressing the emerging problems," says Kenya Alliance of Resident Associations CEO Henry Ochieng.
"Sadly the reaction to these challenges appear to be knee-jerk without any indication of intention to identify the root cause and come up with sustainable solutions," he says.
The capital already has an estimated 6,000 boreholes sunk by private individuals according to the Water Resources Management Authority. Out of this, 4,000 have been sunk without the authority's system, further threatening the city water ecosystem.
On Governor Mike Sonko's Facebook page almost every post he has put up showing the projects his administration is carrying out has been met with dozens of complaints on the lack of water.
"Beautification of Nairobi is not a priority we have more pressing issues like water which I don't understand why the governor doesn't want to touch them," Sandra Sudi fired back at Sonko yesterday about the beautification exercise being done by the county.
No investment
"Every season they plant and waste millions on contracts. Now the county is going to waste water and I have not had any for a month where I live yet it is available for flowers," says Beth Muthoni.
Nairobi receives its water from four sources. At desired capacity Sasumua dam supplies 52,800 cubic metres per day, Ruiru dam (22,800 cubic metres), Kikuyu springs (4,000 cubic metres) and Ndakaini dam (430,000 cubic metres).
Total supply by the four sources amounts to 509,600 cubic metres per day if the rains are adequate.
Still this is 66 per cent of the 760,000 cubic metres of water per day that the city needs.
But since 1994, there has been no investment in a source of water for the residents of Nairobi. The Ndakaini dam which was constructed at a cost of Sh2 billion with a capacity of 77 million cubic litres of water was meant to serve 2 million people. Nairobi's population currently stands at 3.5 million. This is expected to go up to 5 million by the year 2020 according to the UN.
The Northern Corridor Water project which was supposed to take care of this population growth in 1998 did not start until last year due to politics and lack of will by previous regimes. Even as construction for the Sh6.5 billion project continues, the opposition parties are still opposed to it and Raila Odinga has termed it a "tunnel of death."
Ndakaini which is essentially the life line of the capital has been at full capacity just once in the last 10 years. When the Saturday Standard visited the dam, it was only 43 per cent full. This is a 10 per cent drop from December when it was 53 per cent full. At some point last year water levels sunk to as low as 21 per cent.
The last time the central region where Nairobi is located received near normal water supply was in June 2016. Since then, the rains have been erratic. Meanwhile the felling of trees at Aberdare and Mt Kenya forests continues on an industrial scale.
Last month the Kenya Forestry Service (KFS) claimed it had authorized the felling of trees in the two forests which collectively amount to 8 per cent of the country's forest cover after activists raised an alarm. KFS claimed it had only authorised the cutting of 25 year-old and above trees.
Cats and dogs
The Natural Resource Environment Parliamentary Committee in Parliament has vowed to crack the whip on logging.
"If we leave this to continue we will start addressing the issue when it will be too late," says Majority Whip Benjamin Washiali who is also a member of the committee.
But as the water politics continue, the ripple effects continue to pile up. Nairobi is yet to be named as one of the cities with a severe water problem but the news from Cape Town are sending alarm bells ringing, albeit almost late.
"Even if it rains cats and dogs for the next several months or years we will still not have enough water to quench Nairobi," says engineer Muguna of Nairobi Water.
"Our installed infrastructure can only clean 526,000 cubic metres of water per day. These are the realities we have to say as we do something about the situation," he says.
All the water from Ndakaini dam flows downstream 15km to Ngethu Water Works where it is purified then released to Kabete reservoirs for distribution. However up to 38 per cent of this water is lost to cartels who tap it and sell to slum dwellers at up to 20 times the cost that those on the grid pay Nairobi Water.
Ironically, even as residents complain that those in authority are not doing enough to sort their water issues research shows that just by tapping 30 per cent of storm water Nairobi residents could get themselves 86 per cent of their demand.
"The county could bring an additional 596,485 cubic metres per day in its reservoirs through the storm water which is an equivalent of what Ndakaini gives per day," says the study published by the Jomo Kenyatta University of Agriculture and Technology in July last year.
The study which also looked into the patterns of water saving and use among Nairobi residents found that 65.2 per cent of residents in low income areas do not harvest rain water; with the figure rising to 82.4 per cent for middle income residents.
Sampled residents also engaged in wasteful habits such letting taps to run when not in use.