Fury as Standard journalist detained over exposé on tycoon embroiled in land tussle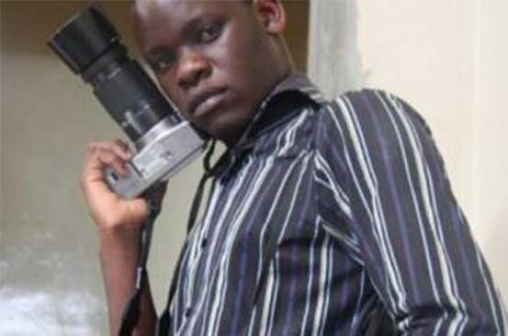 A Standard Media Group journalist spent Friday night in cold police cells over a story that put a city billionaire in a spot.
Investigative journalist David Odongo was arrested by Criminal Investigations Department officers and was detained at the Embakasi Police Station in Nairobi.
His arrest comes barely a week after our sister publication, The Nairobian, carried a story on billionaire Richard Kimani Rugendo over a family land dispute and missing corpses. Mr Rugendo's diverse businesses interests include the juice brand, Pick N Peel.
Also sought after was writer Pkemoi Ng'enoh who had been directed to surrender at CID headquarters but the matter was dropped immediately Mr Odongo was released on free bond yesterday after pressure from the public, media as well as civil rights groups.
Rugendo is at the centre of a family court dispute in which some members have accused him of illegally acquiring their a three-acre piece of land 13 years ago.
An affidavit sworn on January 14, 2003 states that the one-time Lang'ata parliamentary aspirant allegedly transferred and took land belonging to the family of Janet Nyokabi Munenge, who claims Rugendo is her uncle.
Odongo's arrest sparked fury, with the Kenya Union of Journalists (KUJ) accusing the police of reintroducing criminal libel following increased arbitrary arrests of journalists.
#FreeOdongo
KUJ Secretary General Erick Oduor yesterday noted that police have resorted to obsolete section 194 of the Penal Code and misuse of Section 29 of the Kenya Information and Communication Act to arrest journalists. "We are perturbed by the arbitrary arrest of journalists. Sending them to police cells does not only contravene section 34 of the Constitution but introduces criminal libel, provisions that have no place in the a modern society like Kenya," Mr Oduor stated.
He said Kenya is a signatory to the African Charter on Human and People's rights that urged African countries to repeal criminal libel from their national laws.
Odongo becomes the fifth journalist to face police cruelty over the past six months despite the Constitution guaranteeing freedom of expression and independence of the media.
Kenyans on social media expressed outrage under the hashtag #FreeOdongo. Makueni Senator Mutula Kilonzo Jr said "no amount of harassment and abuse of power will stop Kenyans from expressing themselves." "Those dreaming that arresting a journalist for doing what earns his honest livelihood are cursed," Gitobu Imanyara former Imenti Central MP said.
Kenya Editors Guild Chair Linus Kaikai said the purported "orders-from-above" to arrest Odongo should have focused on National Youth Service, Youth Fund, Chickengate or related 'crimes-from-above' but not on a journalist who is just doing his work.
Former Standard Group photographer now activist Boniface Mwangi described the act as 'not just illegal but primitive." His sentiments were supported by blogger Robert Alai: "Sad how this government uses criminal libel which is being outlawed not only in Commonwealth states but throughout the world."
A State House director Dennis Itumbi termed the arrest an affront to media freedom. "Odongo does not deserve to be arrested my friend. There is a place for criticism. A journalist sleeping in the cells for a story? I am on the side of Odongo," read his tweet.
Head of Serious Crimes unit John Koki insisted that they wanted the journalist to record a statement: "They can say they do not know of the allegations in their statement. This is just an inquiry whereby they will be released after recording the statement."
In the court papers, Ms Nyokabi claims that her mother, Leah Wangui and her brother, Moses Kiguro Munenge, were supposed to have been buried on the land after they died over 10 years ago.
Their bodies had been preserved at the city mortuary, but have since disappeared.
The bodies were booked under admission number 057/03 and 157/04 respectively at the City Mortuary and have been in the morgue for 13 years.
A distraught Nyokabi has reported the matter and recorded a statement at Kilimani Police Station under OB 36/4/4/2016.
When City Mortuary boss Sammy Nyongesa was contacted over the matter, he promised to get back. "I will find out about that matter because I am not aware of it," he said.
Nyokabi has through the years given anecdotal evidence as well as material evidence in court over the role Rugendo has played in the woes facing the family.
"For now, all my resources have been reduced to zero in my quest to seek justice," laments Nyokabi. "The priority at the moment is for the bodies to be produced by City Mortuary. We need an explanation, or were they paid to dispose them?"
The bodies of Wangui, who was in her 60s, and Moses, who was in his late 20s, lay at the morgue for more than 10 years due to the land feud in Githunguri dating back to 2002. Wangui died on December 31, 2002 after a long battle with cancer while Moses was found dead in Huruma estate in 2004. At the time of his death, he too was following up on circumstances that led to the death of his mother.
Postmortem results show that his head had multiple deep wounds inflicted by a machete.
Nyokabi says a web of lies and abuse of state apparatus by her uncle crafted immediately after the passing of her mother locked them out of their rightful inheritance.
"On the burial day, we received a court injunction stopping us from burying her on any part of the three-acre piece of land in Githunguri," she says. "The land title deed had been transferred and registered in Rugendo's name. The body had to be taken back to the mortuary," claims Nyokabi.
Mentally unstable
Following the injunction, the Kiambu court directed the family to move to the High Court if they wished to contest Rugendo's right to the land.
"In between a lot has happened in our family, another sister died in 2008 and another brother is mentally unstable, this has even made me travel all the way to Uganda for prayers and a different preacher mentioned that all this is happening because one of us worships the devil."
Nyokabi claims the preacher told her that a one of the houses on the land in contention was used to make strange sacrifices that have now backfired thus making the family members disgruntled.
When contacted by The Nairobian, Rugendo laughed off the matter.
"What can I do with the bodies? I cannot comment on such matters. How can you even take her seriously?" he asked before hanging up.
Nyokabi claims her quest for justice has been replete with threats to her life and property.