Okemo, Gichuru dealt blow in extradition case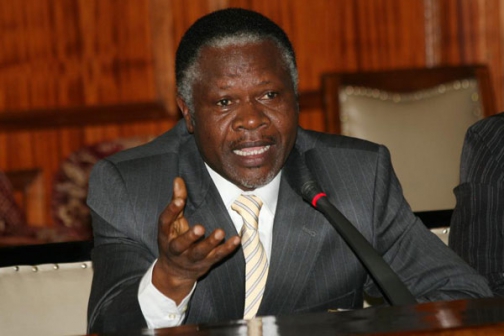 Former Cabinet minister Chris Okemo and ex-Kenya Power and Lighting Company (KPLC) Managing Director Samuel Gichuru have lost their bid to block extradition proceedings to face corruption related charges in Jersey Island.
Justice Isaac Lenoala said the matter was properly before the magistrate's court and the duo can have their grievances heard and determined by the same court.
"This court finds the proceedings before the magistrate's court are not a nullity and they are therefore declared valid," Justice Lenaola said in his judgement.
The judge noted that Director of Public Prosecutions Keriako Tobiko was within the law in instituting the extradition proceedings against Okemo and Gichuru.
Okemo and Gichuru are facing money laundering charges and using a company based in Jersey Island to sanitise the proceeds accrued from their ventures.
Okemo served as Energy Minister between 1999 and 2001 before he was moved to the Finance docket where he served between 2001 and 2003. Gichuru served as the managing director of KPLC between 1983 and 2003.
The two wanted their extradition blocked, claiming there was no legal basis to extradite them to Jersey Island to face money laundering charges.
Okemo and Gichuru moved to court to challenge Tobiko's powers to initiate the extradition proceedings. They said the proceedings were "fatally defective" because the DPP was "constitutionally challenged" to commence trial against the two.
Through lawyer Fred Ngatia, the two, who are wanted in Jersey for laundering about Sh900 million, argued that only the Attorney General had the power to sanction their extradition.